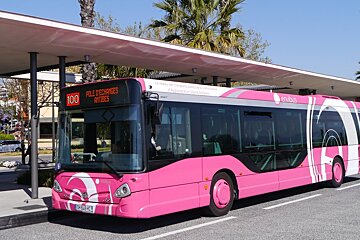 Bus services in Antibes
Discover and book Antibes bus services
Antibes has an efficient bus network making it easy for travellers to get around the area. The main bus station in Antibes is in centre of town in the Place General de Gaulle. Services are regular and are also cheap with tickets at just €1, making it one of the most cost effective forms of transport for tourists.
Timetables
When looking at timetables, be aware that they're in French so L = Lundi / Monday, M = Mardi / Tuesday, Me = Mercredi / Wednesday, J = Jeudi / Thursday, V = Vendredi / Friday, S = Samedi/ Saturday & D = Dimanche / Sunday.
The local bus network is run by Envibus who provides services in Antibes as well as the surrounding communes, including Juan-les-Pins, Biot, Châteauneuf, Gourdon, Vallauris Golfe-Juan and Villeneuve-Loubet.
Antibes Local Buses
Bus 2 - Antibes - Plage du Ponteil - Phare du Cap - Eden Roc
Bus 10 - Antibes - Biot Gare SNCF - Marineland - Biot village - Valbonne
Bus 14 - Fort Carre - Port Vauban - Plage du Ponteil - Port de la Salis
Bus 15 - Juan les Pins Gare SNCF circular
Bus 23 - Antibes - Biot Gare SNCF - Villeneuve-Loubet Marina - La Colle sur Loup
The most useful lines for getting around the town itself and on to Juan les Pins, Cap d'Antibes, Biot, and Villeneuve-Loubet are noted in the table above. Most of these services run every 15 to 30 minutes. Visit the Envibus website (available in English) for a full list of routes and timetables.
---
Nice Airport to Antibes Bus
Line 250 - Nice Airport - Villeneuve Loubet - Antibes - Juan les Pins - Vallauris / Golfe Juan
Buses from Nice airport to Antibes are operated by Nice Airport Express. You can find the timetables and purchase tickets in advance on their website.
---
Antibes Regional Buses
Line 200 - Cannes - Vallauris - Antibes - Cagnes sur Mer - Nice
Line N200 - Night bus Cannes - Antibes - Nice
These services are provided by Ligne d'Azur in conjunction with the Department des Alpes-Maritimes and connect Nice to neighbouring cities on the Cote d'Azur. You can find the timetables here.
---
Once on the bus you will need to use the red button to request the correct stop. This will alert the driver and light up a red sign above him that says 'Arret demande'. If no one pushes the button and there are no passengers waiting at that particular stop then bus will not stop.
---
Note that these timetables may vary throughout the year and during holidays so please contact the bus companies in advance to avoid disappointment.
How to get passes
There are several fare options available. Tickets (multi and single journey) can be purchased in advance from an Envibus outlet or at an automatic ticket dispenser. Single journey tickets can also be bought directly from the bus driver.
Single journeys costs €1 and if you return within the hour you can use the same ticket. When you get on the bus you need to give your final destination, rather than the stop that you are travelling to on that particular bus. The driver will then ensure that your ticket is valid for your whole journey so you won't need to buy a new ticket when you change buses.
A 10-trip pass is available for a reduced rate of €8, or if you are going to use the bus regularly during your visit then you can get a 7-day ticket for €10, giving you unlimited travel for a week.
Family passes are also available for up to 5 family members, with at least one child under 18, for just €5 for the whole day.