Top Antibes luxury hotels for summer
The best hotels for glitz and glamour in Antibes
The Mediterranean port town of Antibes is undoubtedly one of the world's most famous stop-offs for the superyachts of the rich and famous. Thanks to this, Antibes is definitely open for business when it comes to luxury accommodation.
In a town built on yachting that exudes taste and sophistication, its hotels ooze a sense of glamour combined with local character as each venue seeks to stand out and impress.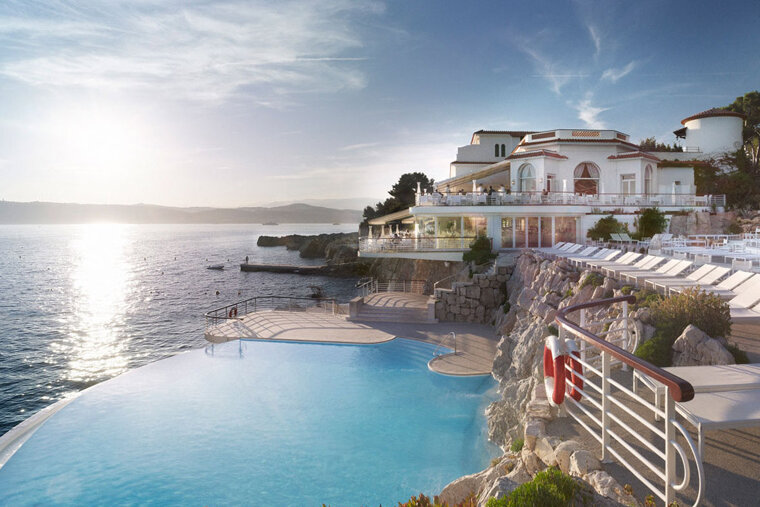 Hotel du Cap Eden Roc, Cap d'Antibes
Without a doubt, you will be rubbing shoulders with the rich and famous if you choose to spend a few nights at the exquisite Hotel du Cap Eden Roc.
The ultimate place to stay on the Riviera for the luxury traveller, this hotel is the choice for royalty, celebrities and VIPs when staying in the region. They host the annual Cinema Against AIDS gala which takes place during the Cannes Film Festival with the guests like Scarlett Johansson, Vanessa Redgrave or Heidi Klum. This hotel has also been the venue for plenty of celebrity and society weddings throughout the years.
As if this wasn't enough to entice you to the Cap d'Antibes, they also have their own spa and two gastronomic restaurants with views over the azure waters of the Mediterranean.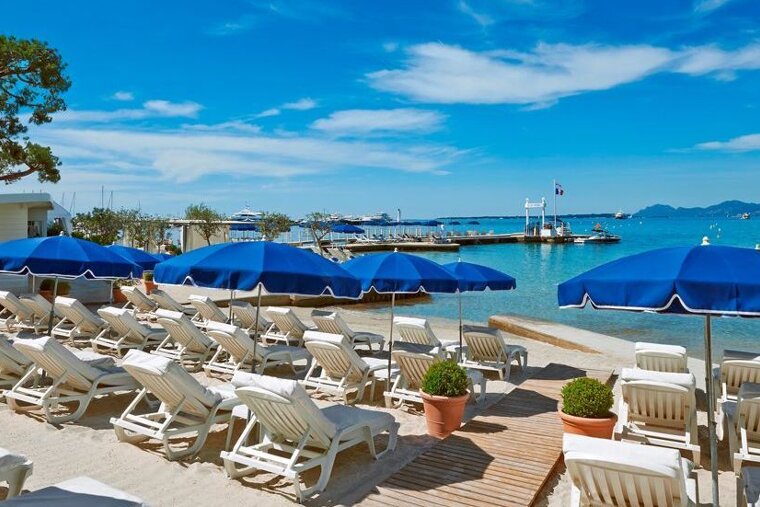 Belles Rives Hotel, Juan les Pins
Another Riviera classic is the Hotel Belles Rives on the waterfront of Juan les Pins.
Amongst their numerous accolades is the Villegiature Award for Best Charming Hotel in Europe, recognising its history, charm and intimate atmosphere. This hotel fulfils the travel dreams of an international clientele in search of French "savoir-vivre".
Originally a villa owned by F. Scott and Zelda Fitzgerald in 1925, who had a reputation for their wild parties and hedonism, by 1929 it had been transformed into a luxurious hotel frequented by the rich and famous. Today it maintains its reputation as a stunning quality hotel on the French Riviera.
Cap d'Antibes Beach Hotel, Juan les Pins
For a more contemporary feel and luxury beach-front hotel, then look no further than the Cap d'Antibes Beach hotel with its Michelin-starred restaurant and private beach. Unlike many hotels in the area, its architecture is sleek and modern and, as expected, the interior mimics the opulence of the exterior.
With stunning views over the Mediterranean, the gourmet restaurant Les Pecheurs offers creative cuisine from Michelin-starred Chef Nicolas Rondelli.
Based within this five-star hotel, Les Pecheurs beach club has a private beach in a tranquil setting where you can unwind on comfortable sun-loungers under a parasol whilst taking in the beautiful Mediterranean sea views. As well as enjoying a relaxing dip in the sea, you can also indulge in beauty and massage treatments in their wellness tents.
Saint Martin Spa and Chateau Hotel, Vence
If you fancy a bit of a sea breeze and some fresh mountain air then it's time to head for the hills and the town of Vence.
Château Saint Martin and Spa hotel is a former 12th century Knights Templar command post set in a 32-acre park where sea and mountains unite. Strolling through the grounds of the château, you get a real feel for the history of the place, whose origins date back to as far as 350 AD when Saint Martin, Bishop of Tours, erected a fortified structure and gave it his name. Then in 1115, the Count of Provence bequeathed the property to the crusaders and, in 1150, it became the stronghold of the Knights Templar.
Today it's the perfect place for a romantic weekend, offering its guests a rural escape steeped in history with its own spa, gourmet restaurant, Provençal style villas and ancient olive groves.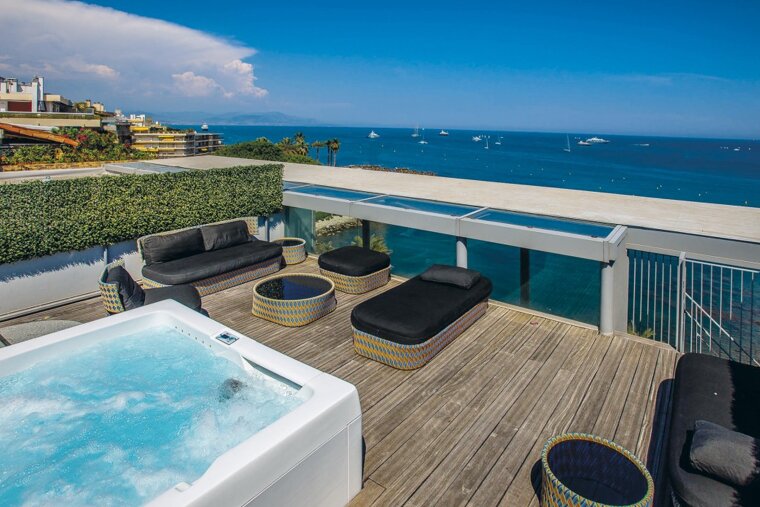 The Royal Antibes Hotel offers affordable luxury right in front of the sea. This modern building stands out with its glass and steel facade, which reflects the Mediterranean waters.
There are rooms, suites and apartments to choose from, all decorated in a simple yet elegant style, while the private beach complete with its own beach club and the Royal Spa provide the perfect spaces to relax and unwind.
More inspiration...
For more inspiration on where to stay this summer in Antibes, check out our other favourite Luxury and Boutique Hotels.