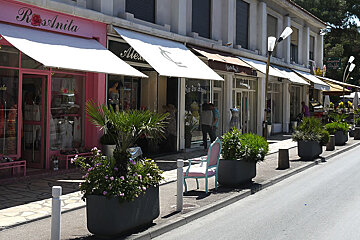 Shopping in Antibes
Discover the top Antibes shops and shopping areas
Antibes has a good selection of boutiques selling expensive clothes, shoes and jewellery. Similar to most Cote d'Azur resorts, the shops here are tailored towards the luxury market.
In the old town of Antibes, there are some bookshops and lovely artisan shops selling local produce including hams, oils and honey. Head to the village of Biot for blown glass. There are lots of shops selling some beautiful coloured and plain glassware.
Where are the best shops?
The markets of Antibes are also one of the best places to pick up some bargains and really get a feel for the local flavour of not only fashion but crafts and local produce as well. The Foire Clothing market is a must for those who want to capture the essence of the local French Riviera style to take home.
Luxury & designer
Any shopping trip in Antibes is a glorious and indulgent experience! The small boutiques of the Juan les Pins area of Antibes are where you will find the latest fashions, accessories and the trendiest of clothes from the area. If you want to know what is 'in' and what's not then this is the place to head.
If you find yourself wandering through the cobbled streets of the old town you will no doubt enjoy the many designer stores, luxury jewellery collections and abundance of accessories.
Markets
In the heart of Antibes the covered Marche Provencale market is perfect for wandering through to soak up the sights, colours & smells...and a few samples! Although this market can be pricey, it is a good place to come and see some fantastic local produce including fruit, flowers, vegetables, meats, cheeses, spices, herbs, fish and sausages. You are sure to be able to pick up some fantastic examples of products used in traditional Provencal style cuisine and wonderful local olive oils, herbs and olives.
In Antibes the Foire (or Fair in English) is a haven for those who love flea market style shopping. Shoes, jewellery and bags are also on sale, as well as various household goods. Even if you're not looking for something specific this market is worth a wander round as you never know when you might find that amazing item at a bargain price!
Shop opening times
Normal shop opening times in France are Monday to Saturday between 10:00 and 19:00, although hours can vary, and Antibes is no different. Many of the smaller shops will close for two hours during the middle of the day and again this is very typical of France as they enjoy a long lunch break to spend with family and friends. Some shops, particularly those that attract tourist trade, do open on a Sunday.