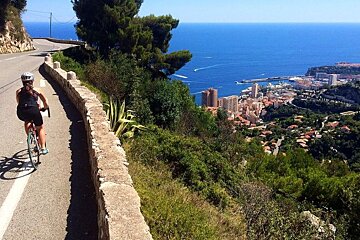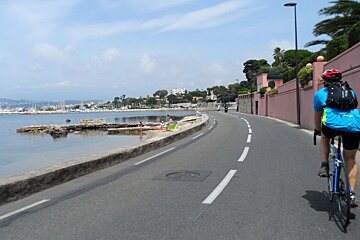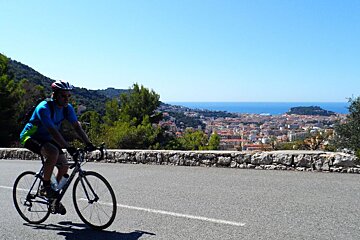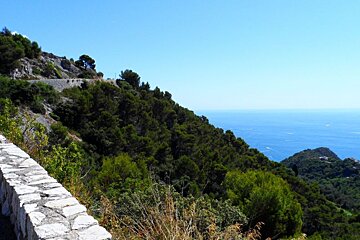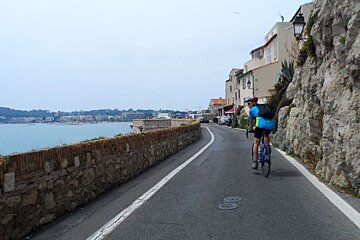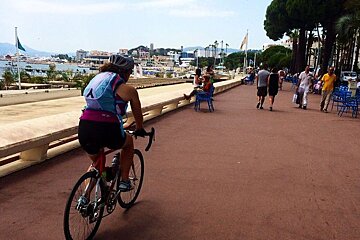 Cycling in Antibes
Discover the top Antibes cycling
For information on individual itineraries see our cycling routes.
Getting high up amongst the mountain passes is one of the best ways to explore the area - Antibes is about far more than lazing on beaches and drinking rosé (although we do a fair bit of that too, just for balance). As you pedal your way through the mountains, gorges and medieval villages you'll come across local produce such as olives, grapes, figs and lemons - some on farmland, much of it growing wild. You'll smell the fragrant scents of lavender, eucalyptus and pine on the breeze. And, if you fall off, you'll discover that many varieties of cactus thrive in this hot humid climate!
Most French people have at some point donned a pair of lycra shorts and mounted a bike with curly handlebars - so you'll usually find most motorists to be courteous towards cyclists. You'll often get a merry wave from passers-by and, particularly in this region, you'll see many others astride the iron horse ready with a nod of camaraderie as you pass on the opposite side of the road.
Cycling routes
There are plenty of routes that are accessible directly from Antibes, meaning that you don't necessarily need to bring a car and bike rack. Starting on the green cycle path that runs the length of the coastline, you can travel for miles in either direction visiting idyllic beach resorts such as Saint Raphael, Juan les Pins, Saint-Jean-Cap-Ferrat, Cap d'Ail and Menton. However, unless you stick to the coastline, roads around here are very rarely level.
Once you've left the town behind you'll be up into the mountains along twisting undulating roads that weave in and out of ancient villages. Just remember to keep your head up and the stunning views will distract from the burning thighs and bursting lungs.
We have compiled a list of some of the more popular cycling routes in Antibes. We have concentrated on routes that are suitable for everyone, rather than hard core cyclists. As Antibes has mountainous and flat terrain, you can choose your route to suit your purpose - we promise you that there is something for everyone!
How difficult is the cycling?
This tends to be dependent on ability and/or how hard you want to try up the climbs. If you are confidant of making the climbs quickly, which means you'll be climbing for up to an hour, then you'll need a 39x27 gear. Most fit club level riders able to comfortably cover 3-4 hours or more in the UK will get by on this gear without struggling too much. If you know you'll take a little longer then your bike needs to be equipped with either a compact triple or double chain set. This will ensure you have low enough gears to ride comfortably at a pace that suits your level.
Remember the climbs may not be that steep but they are long and combined with the heat and altitude may present more of a challenge than you think. But don't be put off, if you're honest about your level and use the appropriate gears then it will be a tiring but pleasurable experience.
Renting bikes
If you choose not to bring your bike with you on your Antibes holiday - and with airlines charging carriage these days for your bike & the possibility of loss or damage to your pride and joy during transit, there are good reasons to leave your bike at home. Not to panic though, if you are a keen cyclist, there are several top notch rental stores in Antibes that will kit you out with the newest and best quality bikes for the duration of your holiday.
If you are a casual cyclist, then these stores will also cater for you, with half day and full day rental options available. Helmets are not compulsory but are available to hire at all of the shops. Antibes is laced with excellent cycle routes so you won't have to fight with too much traffic to enjoy the lovely surroundings - check out our cycle routes for inspiration.
NB. The shops can help with mechanical repairs but their spares range will not cover a road bike in the event of breakages. Fortunately road bikes tend to be a more reliable mode of transport suffering fewer breakdowns than MTBs but it is well worth ensuring your bike has a full service before you travel. If you are not mechanically minded then your local independent bike shop can do this for you. Particular attention should be paid to your tyres and brakes - make sure both areas are in excellent condition. It's always worth bringing a new spare tyre and a couple of extra inner tubes.
Equipment for cycling
Water - One of the biggest problems in this region is the heat. Fit two bottle cages to your bike and take 750ml bottles with electrolyte drinks.
Sun Cream - The thin air and hot summer sun means you will burn quicker here than at home
Windbreaker - Although it may be warm in the valley temperatures can drop rapidly as you climb, weather can chage quickly and the fast descents can cool you down fast.
Snacks - Energy Bars and gels are a very good idea if you are planning a day on the roads.
Mobile Phone - Being able to contact someone to pick you up if your chain breaks is helpful.
Money - You may need it in an emergency or just for a beer at the end of the day.
Basic Repair Kit - You can't fix everything by the side of the road but not all breakdowns require the day to end.
Cycling hotels & camps
Many of Antibes's hotels welcome cyclists and will be able to offer storage rooms and bike racks - check before you book.
Flying with your bike
A review of airlines terms and conditions in relation to sports equipment baggage indicates that it is highly likely that you will be subjected to a standard charge for taking your bike on board. Easyjet; bmibaby; Aer Lingus; and KLM indicated that there was an average additional charge of between £15 (€22.50) and £25 (€36) to take your bike, one-way.
However, make sure that the combined weight of your luggage does not exceed you allowance. Although you may have paid an excess for your bike its weight may be added to the weight of your hold luggage and there can be a penalty for any kg's over the allowance.
The more conventional airlines such as British Airways and its code share partner Swiss airlines permit free transport of bikes providing they fit within the free baggage allowance, and are packed in a hard shelled container.
Packing your bike for a flight
There are a few options available in transporting your bike. Hard bike boxes tend to cost in the region of £300 and like a hard case suitcase it will minimise the risk of damage occurring to the your bike but they are heavier. A soft bike bag is the cheaper option, costing around £100. Whilst this will provide your bike with a little more padded protection it is not as reliable as the hard box. On our recent trip from the UK to Geneva, we transported our bike in its original cardboard box, protected the key areas with bubble wrap and cardboard and it arrived safely and undamaged. Most airlines stipulate the following:
Bikes should be contained within a protective box or appropriate bike bag;
Only one bike should be carried per box/bag, and no other items (except protective padding) should be included within the box/bag;
Handlebars and pedals must be fixed sideways against the frame or removed; and
Tyres should be deflated slightly to reduce the risk of damage.
If you are transporting your bike, you should also check out your travel insurance arrangements. A lot of travel insurance companies will not cover your expensive mountain bike without an additional excess payment, and a lot of airlines will not be held responsible for any damage sustained whilst the bike is in their care. Check out your household insurance policy to see whether it can be covered as 'contents away from home'. There may be a slight surcharge for this option, but it's potentially better than having to fork out for a new bit of kit, or a brand new bike!!
Top Tip
In addition to bubble wrap, purchase some pipe lagging and zip ties from a DIY store to put around the frame of the bike for protection during transportation. In addition, if you don't have your original cardboard bike box, ask your local bike shop for one. If you have the choice always use the manufacturer's box and your bike should arrive safe and whole. However, it is worth noting that the most frequently damaged part of a bike is the rear gear hanger. Remove the rear gear mechanism and tie wrap loosely to the frame to avoid this scenario. This applies almost equally to disc brake rotors if your bike sports them. Take them off, likewise pedals, its only a five minute job and will prevent you engaging in a fruitless search for an obscure part in resort.
Taking your bike on the train
Going on holiday to France with your bike is pretty straight forward, but as with a lot of things, its better to book in advance.
The Eurostar allows you to take your bike on the train, however regulations stipulate that it must be carried in a bike bag or box.
"Passengers with bikes have and continue to be important to us. Our new policy has been introduced so that we can use the space on our trains more flexibly, by carrying the same or more bikes depending on the demand from passengers. The only change is that bikes will now need to be carried in a bike box, either your own or one which we are happy to provide. When packaging bikes in this way, they take up less space which means that we can carry more bikes, or any other type of luggage."
If your bike is placed in a suitable bike bag or box that is no longer than 85cm, you can carry it on board as part of your baggage allowance for ALL journeys from London. For bike bags or boxes over this size then you will need to use the registered luggage service. This costs between €25 - €29 one way from London to Paris, Brussels or Lille. This service is not permitted on direct trains from London to Lyon, Avignon, Marseille and the French Alps.
They will do everything they can to ensure your bike travels on the same train as you. But if it can't, they guarantee that you will be able to collect it at your Eurostar destination station within 24 hours of your departure. Your bike will generally travel on the same train as you unless there is not enough space. If this is the case, they will send it on the next available train.
Once you're in France getting around with your bike can be straight forward, but again planning ahead and getting to the station early are highly recommended.
Domestic or regional trains (TER) and Tourist trains quite often allow you to transport your bike for free, although you may have to put it in a bike compartment, or hang it from a hook to save space, or fold it up and take it on as hand luggage. Spaces are limited and you cannot reserve in advance, and in some regions bikes aren't permitted Monday-Friday during working hours as the trains are too busy with pedestrians.
Regional trains in Ile-de-France, the region surrounding Paris, are called Transilien. These are the country's busiest commuter trains. They operate into all of Paris' stations and run on lines with a letter associated (line K, line P, etc.). They also include the RER trains, which run on lines A to E. You can take your bike on board a Transilien Monday to Friday, before 6.30am, between 9.30am and 4.30pm, then after 7.30pm; At any time on weekends and bank holidays and at any time if it is folded or placed in a bike bag and does not cause fellow passengers any inconvenience.
On Intercity trains it's best if you can dismantle your bike and carry it on in a bag no more than 120x90cm. Some of these trains require a seat reservation, whereas others do not. Consequently, according to the type of train, it may or may not be necessary to book, or pay for, a place for your bike.
Safety advice for cyclists
A few words of advice for cycling in Antibes.
Certain roads can get very busy in the Riviera during the peak summer months, so check traffic conditions before planning a route in July or August and avoid the city centres if possible.
Keep to the hard shoulder of roads wherever possible and if you go out in a group, travel in no more than two abreast. Don't make any risky manoeuvres and always comply with all traffic regulations
Respect the natural surrounding because the ecological balance is very fragile. Do not leave litter behind and do not light fires in the woods
Do not enter private property without the expressed permission of the owner
In the summer, it is advisable not to cycle during hottest time of the day. Take water, sun-cream and a hat on excursions
Before leaving, make sure your cycle is in good condition. If you are planning to go out at night or might be returning late, ensure that your bike is fitted with working lights
Before setting off, make sure you let someone know where you will be going and when you think you are likely to be back
Take a puncture repair kit!
Cycle paths are still being developed in Antibes - but use them where you can as it will make your journey more pleasant...and safer
There are many cycling itineraries marked in the minor roads - you can found out more on our Cycle Routes page