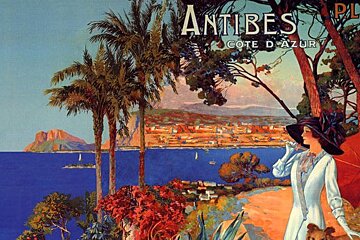 History of Antibes
Discover the Antibes of yesterday
Beaches, Mediterranean climate, crystal clear waters, narrow cobbled streets and history. You can find everything here in Antibes.
Well known for several of its annual festivals, such as Jazz a Juan and the Voiles d'Antibes, this pretty town is also packed with history, ancient buildings and has a great story to tell.
Early history
Antibes has always been an important historic trading post, founded by the Greeks in the 5th century BC. Initially called 'Antipolis', the town became part of the Roman Empire in the 2nd century BC, which meant significant improvements in infrastructure including the building of roads and aqueducts.
Development through the ages
After the collapse of the Roman empire, Antibes suffered centuries of unrest and consistent invasions by various barbarians. It wasn't until the 15th century when Antibes came under French rule that the town settled.
Around 1850, wealthy nobles became attracted to the natural beauty of Antibes and the building of villas and large holiday residences began. After the construction of the first luxury hotel in 1870, many of the world's jet set, elite and rich continued to flock here and still today it remains an international destination for the wealthy.
Recent history
From around the middle of the 19th century the Antibes area regained its popularity, as wealthy people from around Europe discovered its natural beauty and built luxurious homes here.
Pablo Picasso came to the town in 1946, having visited his friend and fellow painter Gerald Murphy. During his six-month stay at Chateau Grimaldi, Picasso painted and drew as well as crafting ceramics and tapestries. When he departed Picasso left a number of his works to the municipality. The castle has since become the Picasso Museum.