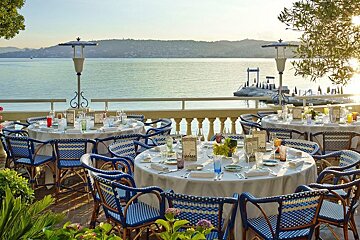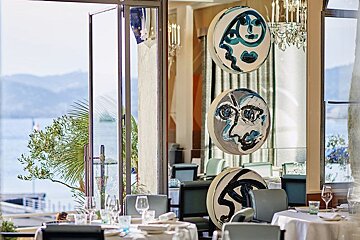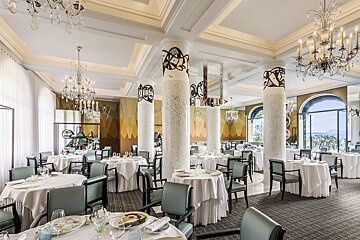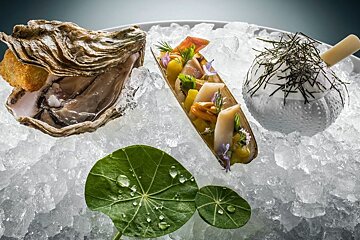 Restaurant La Passagere, Antibes
1 Michelin star gourmet restaurant of the Hotel Belles Rives
La Passagere has one of the most popular terraces of the Riviera, with a stunning panorama over the bay of Juan-les-Pins, the Lerins Islands and the Esterel.
Inside, gilded columns, frescoes of the 30's are illuminated by magnificent chandeliers. On the table, unique hand-painted plates for exceptional taste dishes.
Aurelien Vequaud is the chef, honoring the finest Mediterranean products. The restaurant's dessert menu includes a sugar blown dish called the "pearl in blown sugar shell", and is the signature dish from pastry chef Steve Moracchini.
June-September: open daily from 19:30-22:00.
March-May and October: open Wednesday to Sunday, from 12:30-14:00 and 19:30-21:30.
Watch this
Worth knowing
Dogs are not allowed at the gourmet restaurant.
Visitor comments
"Everything from the canapés to the desserts was absolutely delicious and the presentation was first class. The menu was experimental without being too pretentious and it was clear that only the best quality ingredients were used. I feel the whole experience has been fine tuned to create a truly luxury dining experience befitting to the fabulous setting. Thank you to all the staff for brilliant evening. See you next year!" - Trip Advisor
"We sat down on the terrace for lunch and experienced gourmet, romantic and utterly delicious food. Dishes were delicately presented, served with casual formality on hand painted plates on white clothed tables. This was all round one of the most memorable lunches I have had." - Trip Advisor
"Fantastic meal on the terrace at the Belles Rives. Perfect setting, low key but faultless service and truly amazing food. Not inexpensive - but well worth it." - Trip Advisor
Location