During a recent biking trip to the Côte d'Azur my friend Katie and I decided to ditch our lycra and homemade sandwiches for the evening and treat ourselves to a gourmet dinner at Les Pêcheurs Michelin star restaurant, part of the 5 star Cap d'Antibes Beach Hotel.
We did worry that we would be slightly under-dressed (flying with only hand luggage and biking gear doesn't leave much room for the most glamorous of outfits), but we needn't have worried, the atmosphere was classy but relaxed, and when greeted by the friendly staff we were immediately put at ease.
What makes Les Pêcheurs so special is it's situation overlooking the bay of Golfe-Juan. We were lucky enough to visit on a beautiful May evening and we were invited onto the terrace to watch the sunset over the Mediterranean and to whet our appetites with a chilled glass of rosé and some delicious amuse-bouches. The wine list was extensive and so the waiter provided us with helpful recommendations on what to choose. We weren't disappointed with his suggestions; the wine was delicious.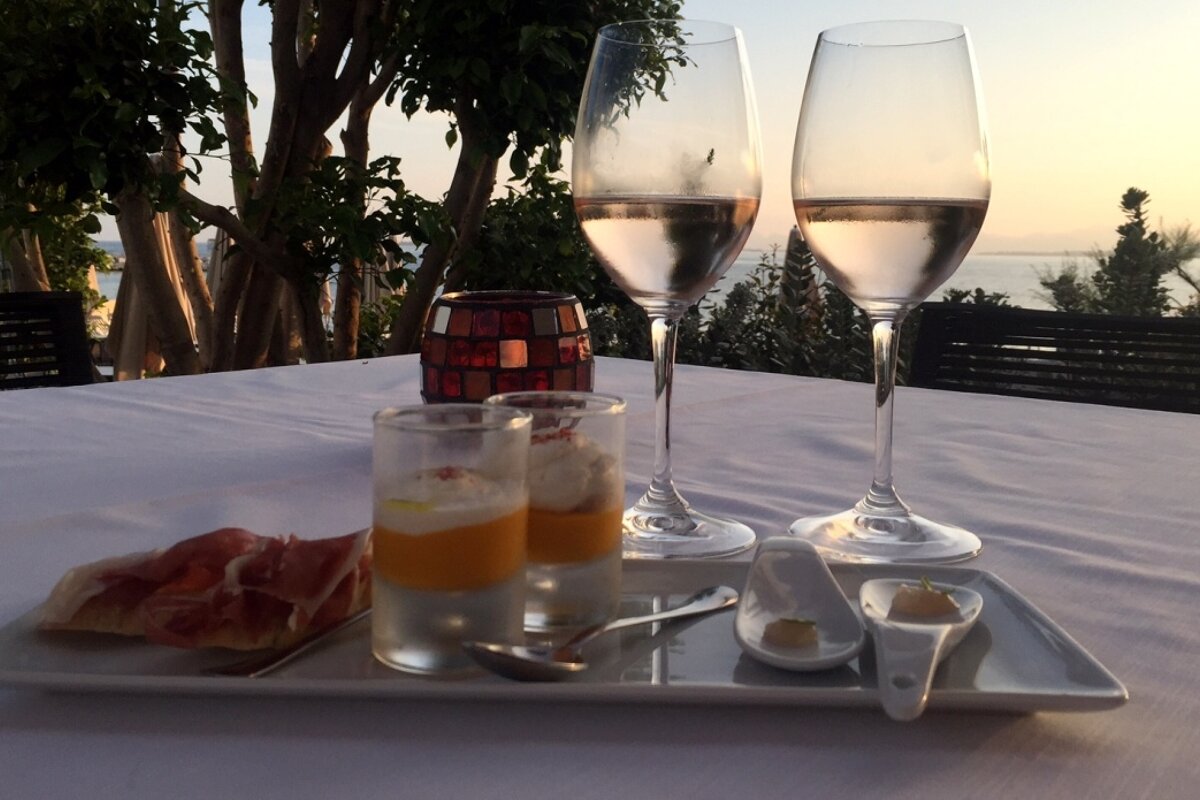 ---
The staff were attentive but not intrusive so we were left to sip our wine, watch the sunset and peruse the Mediterranean inspired menu. There is the option to either order à la carte, or a tasting menu of three or six courses for the whole table.
Once our order had been taken we headed inside and were seated at our table, appropriately positioned so take full advantage of the 180 degree ocean views the large glass windows at the front of the restaurant afforded us.
To start I decided on the scallops served with seaweed, caviar and a Granny Smith apple jus, the flavours were delicately balanced to make the most of the freshest of seafood, whilst the apple jus provided a modern and tasty edge to the dish. Katie opted for the asparagus roasted with lemongrass, squid and smoked piquillo sabayon, which was light, refreshing and very flavoursome.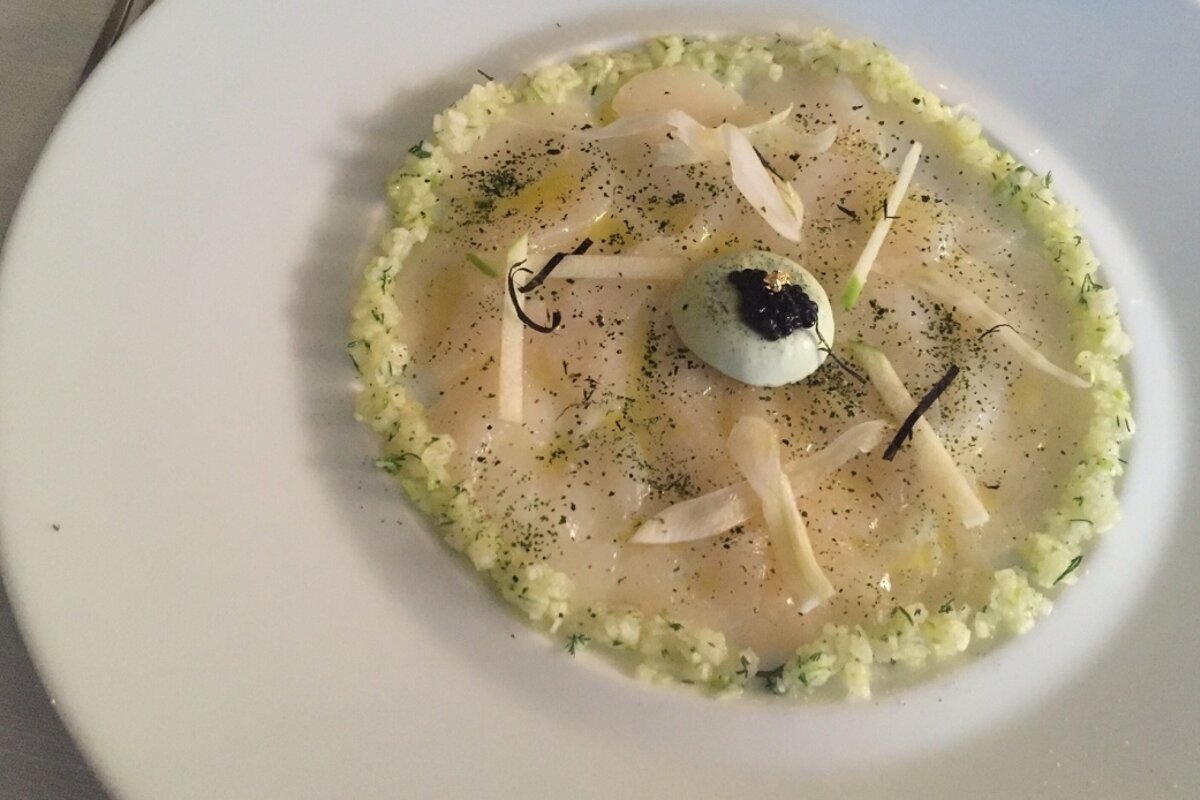 ---
We shared our two main courses: John Dory cooked with basil, courgette and clams which was beautifully presented, well seasoned and very tasty; and to mix it up a little bit (and because it's my absolute favourite) rare roasted saddle of lamb, which came out tender and delicious, perfectly accompanied by marjoram, aubergine caviar and artichokes, highly recommended by both of us.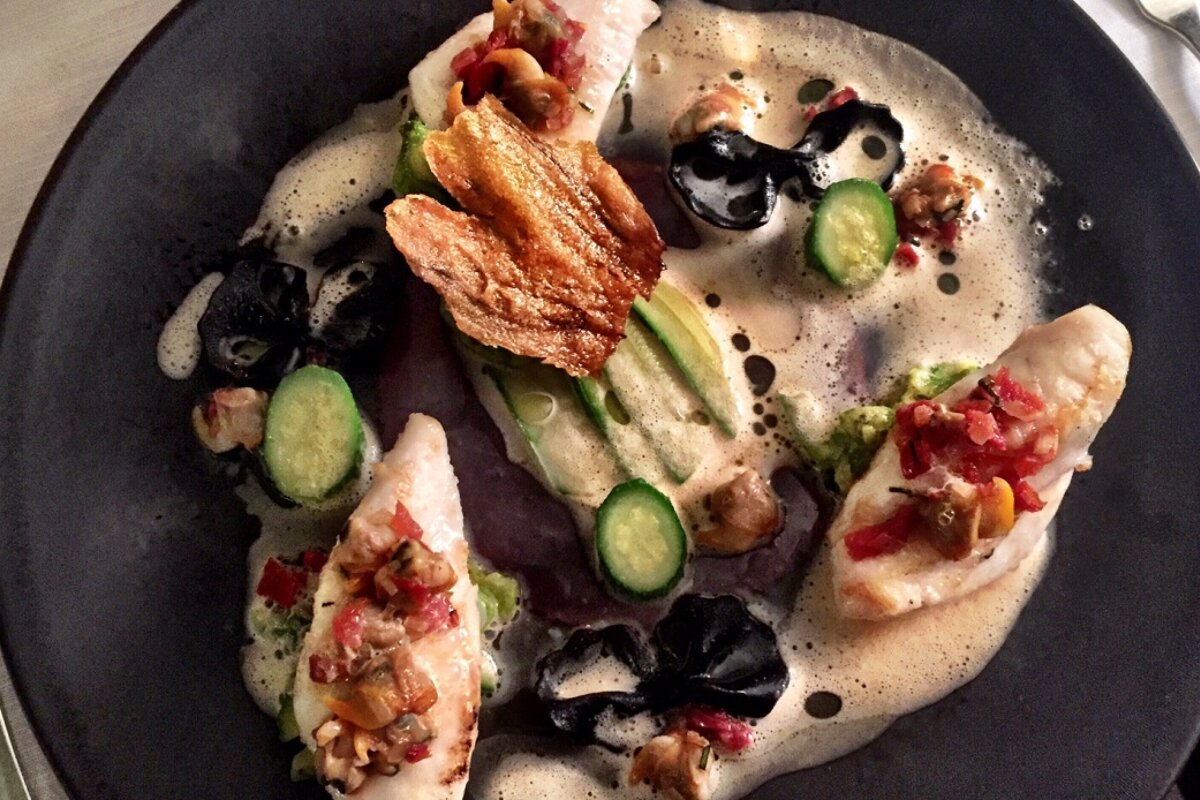 ---
For dessert we had chocolate with sea salt shortbread and black cherry sorbet (think black forest gateau with a twist) which won me over with its clever design and rich chocolaty taste, followed by coffee soufflé with coffee ice cream, slightly lacking in presentation but smooth and creamy with a fabulously punchy coffee kick. It was a great alternative to an after dinner coffee. Be wary, that caffeine hit can keep you up for hours.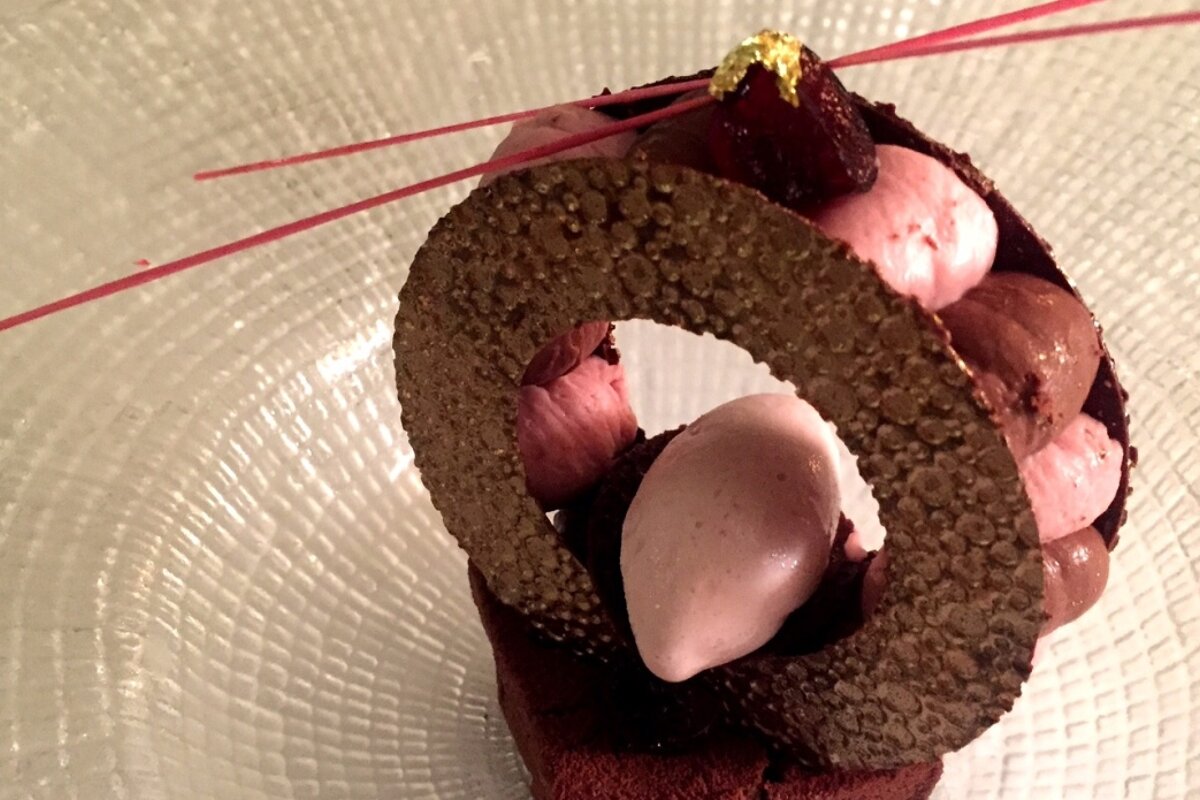 ---
After dinner we walked off our meal with a stroll back along the coast with full bellies and slightly fuzzy heads, the sure signs of a fabulous evening. Whilst Les Pêcheurs is on the expensive side of fine dining, I would recommended a visit if you want to splurge and really treat yourself to something special. Make sure you visit on a beautiful evening (there are many on the Côte d'Azur) to take full advantage the terrace and outstanding sea views.
If ever find myself back on the Côte d'Azur I will be sure to visit again, maybe this time with a hunky man in tow for what could be a proper romantic evening in an absolutely stunning setting.