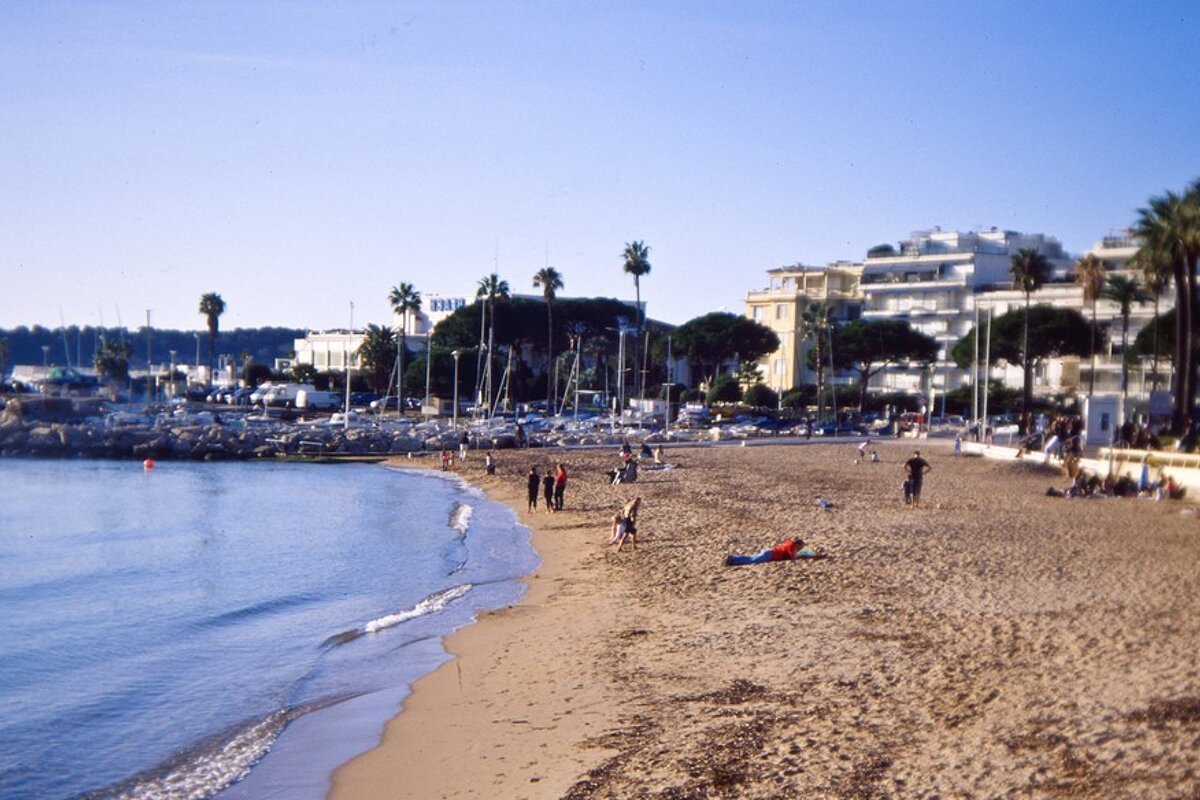 Plage du Pont du Lys Beach, Juan les Pins
Last beach of Juan les Pins as the coast curves around towards Golfe Juan
This relatively narrow sand beach is a beach of two halves. The town end is mostly taken up with beach clubs offering a pricey, decadent day lolling about on a deckchair or a pontoon.
Yet as the beach runs towards Golfe Juan, past the little sailing boats and kayaks pulled up on the shore, it becomes a public beach, with the main road and the train line running right alongside.
Like many Riviera beaches, dogs are ostensibly forbidden between mid April and the end of September because of the crowds. I have seen dogs being walked on the public end though, but keep your eye out for inspectors and be aware that you could cop a fine.
In summary there's good sand, a great view, decent facilities, watersports equipment for hire and it's less crowded than further along.
Beach Bars & Beachclubs in Antibes
There are several beach clubs with restaurants along here, with the party atmosphere of Moorea Beach being the most well-known.
It can actually get a bit rowdy at times here on summer weekends, particularly when the superyacht crews come to town splashing their tip money and champagne around. For something a bit quieter and refined, head to Bijou Plage. If you're watching your budget then head to a supermarket and pick up a picnic.
Setting & Location
This beach has the same stunning view across the bay towards the Esterels as the other JLP beaches do, but with perhaps a little less of their atmosphere. The main road runs snug along the back of the beach, with the train line just behind, where the trains rattle and clatter along quite regularly in summertime.
However, the closeness of the train tracks and the lack of parking along the main road does mean that the far end of Plage du Pont du Lys is often a lot less crowded than the other beaches.
As mentioned, at the town end it's mostly private, except for one small patch of sand. The public beach is at the other end.
Water Safety & Clarity
Juan les Pins beaches often have clearer waters in midsummer than their Antibes counterparts, but will still sometimes get that miasma of sunscreen and boat run-off that plagues the Riviera beaches as millions of tourists descend on the coast. If crystal clear water is really what you're after, pack a picnic and jump on the ferry across to the stunning Cannes Islands.
There isn't a public lifeguard along this beach, but several of the beach clubs have lifeguards.
Stingers do sometimes visit Riviera beaches, but luckily some lovely soul maintains a jellyfish alert website, updating recent sightings of jellyfish along the Cote d'Azur. Check it out here, it's in French, but it's pretty easy to understand: it has big red jellyfish marked on the map, or green flags where it's good to swim.
Beach Quality
Plage du Pont du Lys shares the same lovely soft sand as the other JLP beaches and you might even get a little more if it to yourself in summer than at the others. It's not very wide though, and can suffer from erosion after storms, particularly at the public end.
Watersports Nearby
There is a little sailing club here, where you'll find small sailing boats, kayaks and windsurfers for rent. For towed watersports, go to one of the pontoons further back towards town.
Directions
This beach has no road parking, but it does have a carpark on the other side of the road, which is reached by a concrete subway that runs under the road.
Location