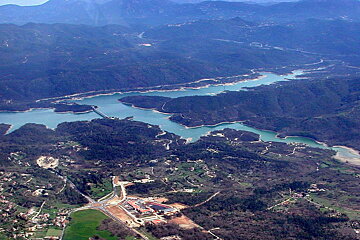 Lac de Saint-Cassien Nature Park, Var
Stunning natural lake situated inland west of Cannes and Antibes
Situated in the Fayence area of the Var, not far from the south coast of France, this lake offers a welcome respite in the heat of the summer months.
Originally intended for the production of hydroelectric energy, the lake has become a much-appreciated spot for enjoying leisure activities. Yet, it still remains ecologically important and visitors are asked to keep this in mind and to respect not only the site but also its flora and fauna. It is home to more than 180 species of birds and the European pond turtle.
This large, deep lake is surrounded by forest and rolling hills, and there are a multitude of coves, little beaches, and perfect picnic spots all around the edge. During summer there's often an inflatable waterpark set up right in the middle of the lake, and there are pedallos with waterslides and kayaks for hire. Shallow and warm at the edges, the lake does get deep and cold in the middle: the perfect refresher on a hot summer day.
Worth knowing
Due to fire danger in the summer months there aren't any barbeque facilities here, but there's a kiosk selling snack food on site, and a couple of restaurants nearby if you fancy purchasing some hot food. Dogs are allowed.