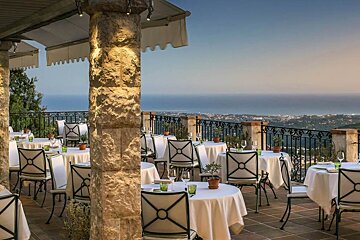 © Chateau Saint-Martin & Spa, Vence
© Chateau Saint-Martin & Spa, Vence
© Chateau Saint-Martin & Spa, Vence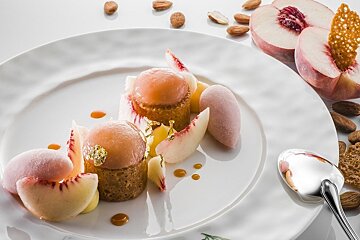 © Chateau Saint-Martin & Spa, Vence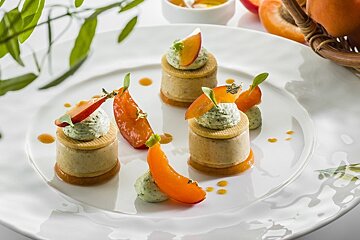 © Chateau Saint-Martin & Spa, Vence
Le Saint-Martin Restaurant, Vence
Michelin starred restaurant north of Vence
Gourmet restaurant of the Saint-Martin Spa & Chateau hotel to the north of Vence.
Featuring a panoramic terrace, this gourmet restaurant invites each guest to enjoy an amazing meal. Characterised by the marriage of spectacular views towards the Mediterranean coast and refined gastronomic creations, Le Saint-Martin offers an unforgettable experience.
Drawing inspiration from regional and seasonal products, chef Jean-Luc Lefrançois combines every dish with a specific flavour. The sommelier, Géraud Tournier, selects and offers among the best vintages of his cellar. Finally, the talented pastry chef Eve Moncorger offers delicious desserts for both the palate and the eyes.
Open daily from 22 April - 14 October.
Breakfast: 7:30am-10:30, Lunch: 12:00-14:00 (when L'Oliveraie is not open), Dinner: 19:30-22:00.
Visitor comments
"From the first second to the last, we were made to feel special. Our palates were delighted - almost challenged - dish after dish and we kept being impressed. What an amazing evening." - Trip Advisor
"The view is the best in the world, no kidding. The food was just overwhelmingly wonderful. It is hard to write this because I want to go there for my weekly date with my husband. I can't recommend it more highly." - Trip Advisor
"Each course was wonderfully prepared and presented. The service is exceptional. At the end of a wonderful dinner, we were presented with delicious chocolates, made at the hotel. What a delight." - Trip Advisor
Location