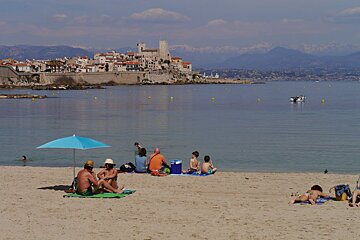 Family friendly beaches in Antibes
Our guide to the best family beach experiences in Antibes
Antibes is one of the best family destinations on the French Riviera, and the quality and variety of its beaches has a great deal to do with that.
Soft white sand, protected shallow waters, and a wide range of activities for the kids means that a beach holiday in Antibes will provide plenty of happy family memories under the Mediterranean sun.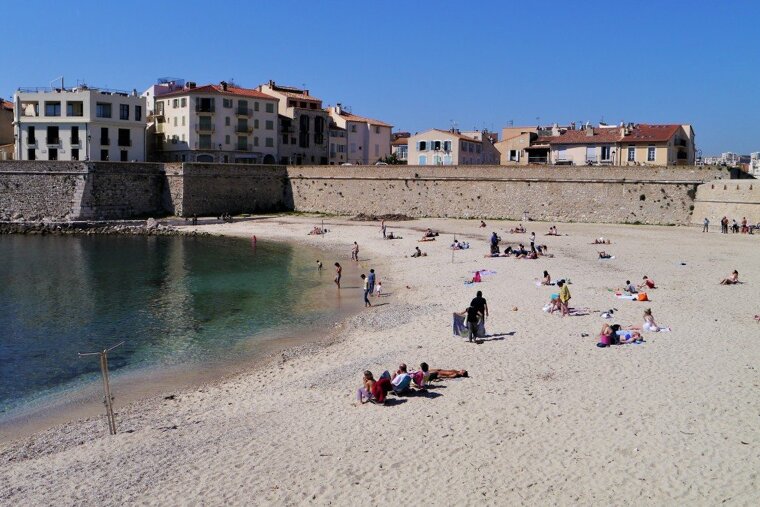 Antibes Old Town: Plage de la Gravette
The soft white sand beach of Plage de la Gravette is particularly good for parents with young children, for so many reasons. Firstly, the access is brilliant: it's right in the old town, just by the port, and there's extensive underground parking only a few hundred metres away if you're driving.
This beach is wonderfully sheltered, protected at its back by the enormous city ramparts, with only a small stone archway leading back out to the road. The calm waters are sheltered by the superyacht port and a long breakwater. The sandy beach slopes gently away into clear shallow water, and there's a lifeguard stationed there in July and August. There are public toilets built into the rampart walls and a freshwater shower on the shoreline.
During the summer there's a small food truck on the beach selling the expected beach fare of hot chips, soft drinks and ice-creams, but the real joy of this beach is that the wonderful daily Provencal market is just up the road, meaning you can buy delicious picnic supplies. There are also plenty of cafes and restaurants within a short stroll if you want to take a break from the beach.
If you're visiting Antibes in the cooler months, this beach is a brilliant sun-trap and because it's very quiet the kids can run around and play games to their heart's content.
Cons: Plage de la Gravette doesn't have any watersports, and there aren't any designated kids activities or playground equipment.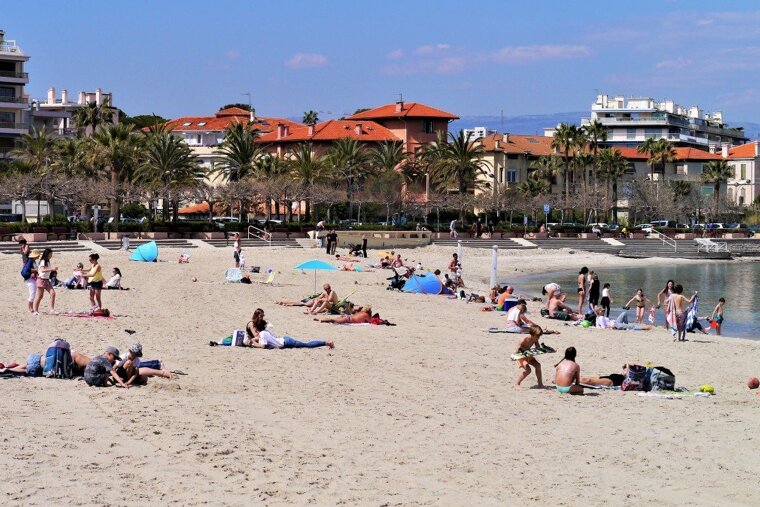 Antibes: Plage du Ponteil
Probably the most popular beach in Antibes, Plage du Ponteil is located on the long stretch of beach running from the Antibes ramparts around to the rocky Cap d'Antibes. With soft white sand, clear shallow waters, a lifeguard station, and a palm-lined promenade with a playground for the kids, this is a big favourite with families.
Top Tip: there are a few stairs leading down to the beach from the promenade, so if you've got little toddlers obsessed with climbing stairs and you're not keen on stair supervision duty, walk a little further along to the neighbouring beach, Plage Salis.
In between the two beaches, there's a sailing school where kids can have lessons, or you can hire paddleboards and kayaks from here as well. There's also a small watersports operator with inflatables such as banana boats near the Royal Beach Club, and there are beach volleyball games in the late afternoon.
There's fairly good access as it's only a 10-15 minute walk from the Old Town, and there's a medium-sized carpark just behind the beach. Just across the road you'll find shops, including a small Casino supermarket for picnic supplies, and a newsagent selling lots of beach equipment, including lilos, beach balls and even a few swimsuits. If you don't feel like a picnic, there's a stretch of restaurants and cafes just across the road, or you could enjoy a lovely modern Italian lunch overlooking the water at Royal Beach club, where customers can hire pedalos with waterslides for the kids.
There are toilets at intervals along the beach, showers along the waterline, and there's disabled access down to the water and assistance offered at a 'Handiplage' down by the lifeguard station.
Cons: it does get busy in summer, so get there early. The water is normally very calm but it's not as sheltered as Plage de la Gravette and can get a bit choppy in certain winds. There's a busy road and car park behind the beach so supervision of younger children at all times is a must.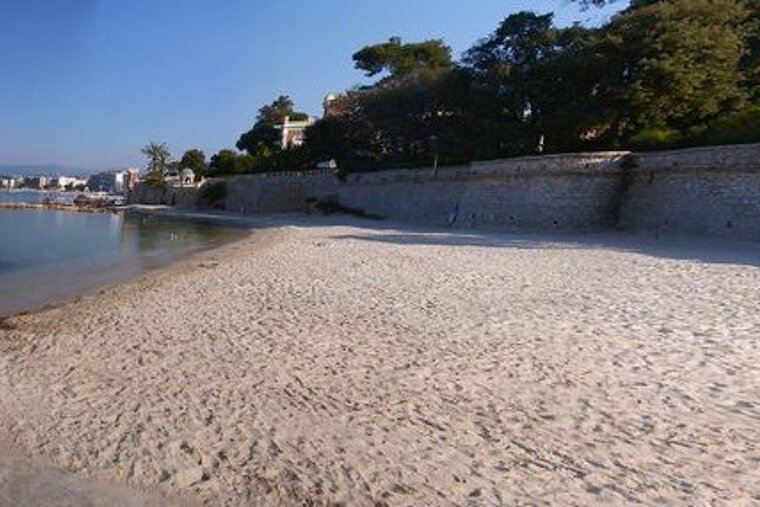 Juan-les-Pins: Plage de la Gallice
There are some really great beaches in Juan-les-Pins, which is part of the Antibes commune. This fun seaside town of art deco hotels among the pine trees is famous for watersports, in fact, waterskiing is said to have been invented here!
There are plenty of soft-sand beaches lined with glamorous beach clubs, deckchairs and watersports operators in JLP, but our pick for families, Plage de la Gallice, has none of those things. What it does have, however, is soft white sand, a family-friendly café, and great protection. And because it's hidden away, it's not nearly as busy as the other beaches. In fact, many people don't even know it exists.
The beach is sheltered at its back by a high wall and it's a long way from the road (making it nice and safe for kids), while the port breakwater offers keeps the water calm and still. The sand slopes away gently into shallow waters, and there's a beautiful view across the Bay of Cannes past the anchored superyachts to the hazy Esterel mountains in the distance.
Just behind the beach there's a casual, family friendly café offering burgers etc, and it's even got ping-pong tables and park benches in the courtyard out the back. There are toilets in the port too.
There's a carpark in the port for good access, or there's a bus that will bring you from Antibes or JLP. It's advisable to drive or take the bus to reach this beach, as the walk back to town is along a busy road with no footpath. When you do get back to town, take the kids to watch the squirrels and ride on the carousel in the little pine forest park of La Pinede.
Cons: there are no lifeguards or specific watersports.
More inspiration...
Antibes definitely has the family beach experience you're looking for. Have a look at our choice of family-friendly hotels and plan your next family holiday to Antibes.