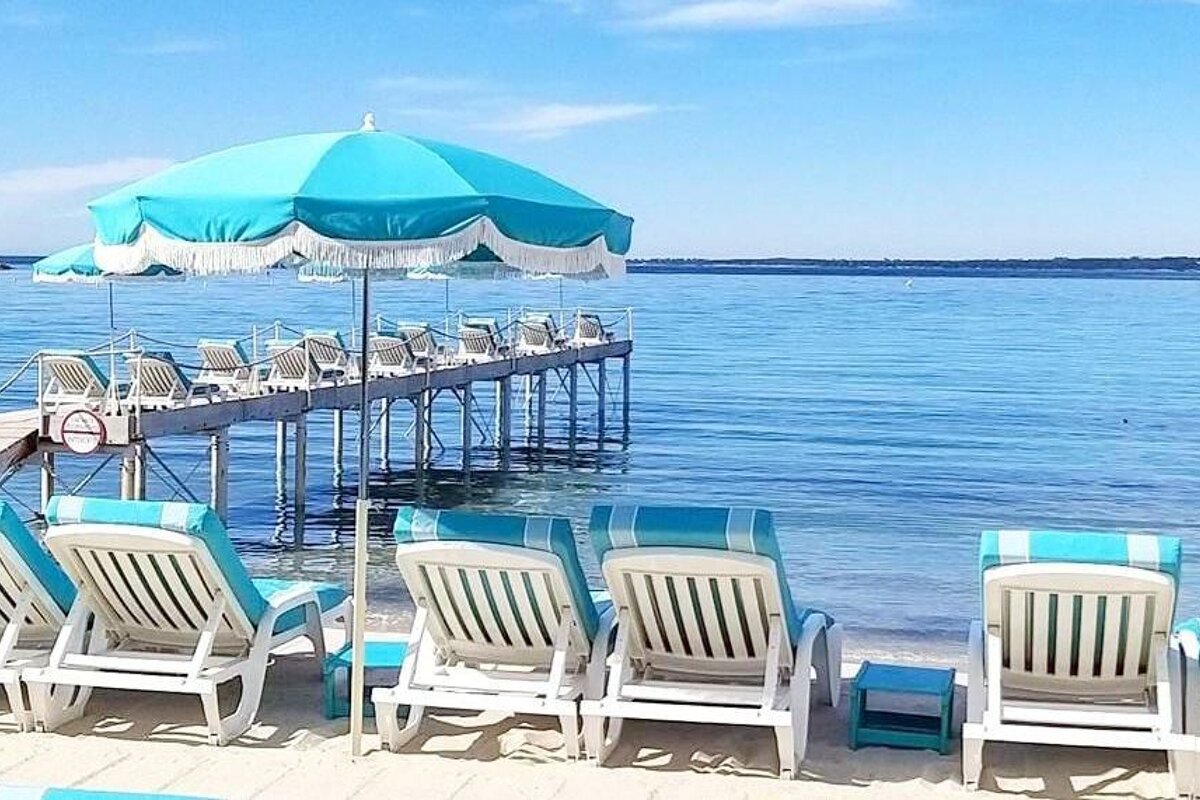 Hottest beach clubs in Antibes
Where to sunbathe, swim and sip on a cocktail
If your idea of paradise is basking under the sun whilst sipping on a cocktail; or nibbling on seafood before refreshing yourself in an infinity pool or the crystalline waters of the Mediterranean, then this guide is for you.
We have handpicked our favourite beach clubs on the glamorous coastline of Antibes. All you need to do now is choose which day you want to relax with your toes in the sand and your hands on a chilled drink.
Plage Les Pirates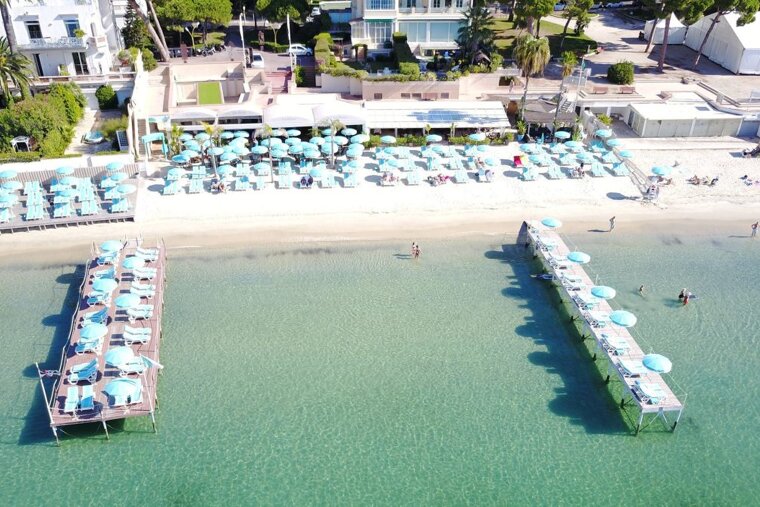 Located near the famous Pinède of Juan les Pins, which hosts the best live music events in the area every summer, Plage Les Pirates is our favourite beach club in and around Antibes. Maybe it's because of its private beach with white, soft sand and crystalline waters. Perhaps it's that we just love its gourmet restaurant serving refined Italian and Mediterranean cuisine, including the freshest seafood and fish in Juan les Pins. Or it might just be the feeling of complete relaxation that you get when sunbathing on their stunning jetty, on one of their turquoise sunbeds that mirror the colour of the sea below. Whatever it is, Plage Les Pirates is a must when visiting Juan les Pins.
Royal Beach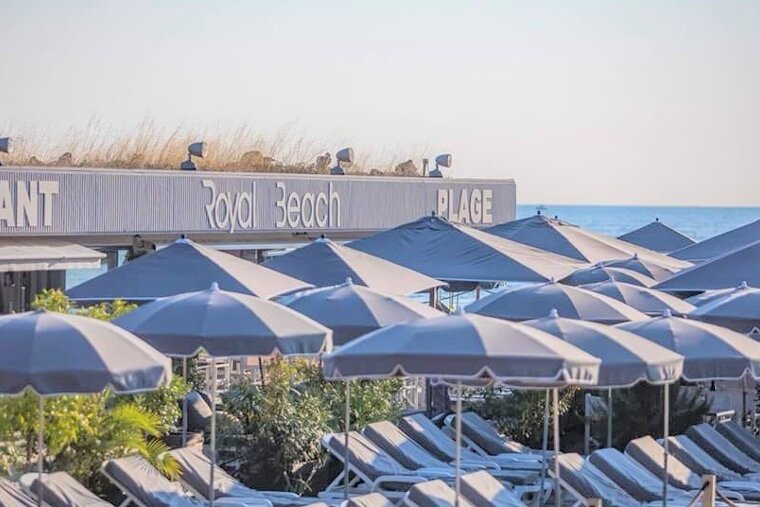 Located just opposite the Royal Antibes Hotel, this beach club boasts stunning views of the Cap d'Antibes from all the sunbeds dotted around its private beach and jetty. Opening onto the bay of L'Ilette, this is an ideal place for a dip in the sea thanks to its calm waters. Their Italian menu features salads, carpaccio, fresh pasta, meat and fish while their lounge is great for a sundowner cocktail listening to Bossa Nova. For those keen on a more active approach to a beach day, there is water skiing and banana boats on offer.
Les Pecheurs Beach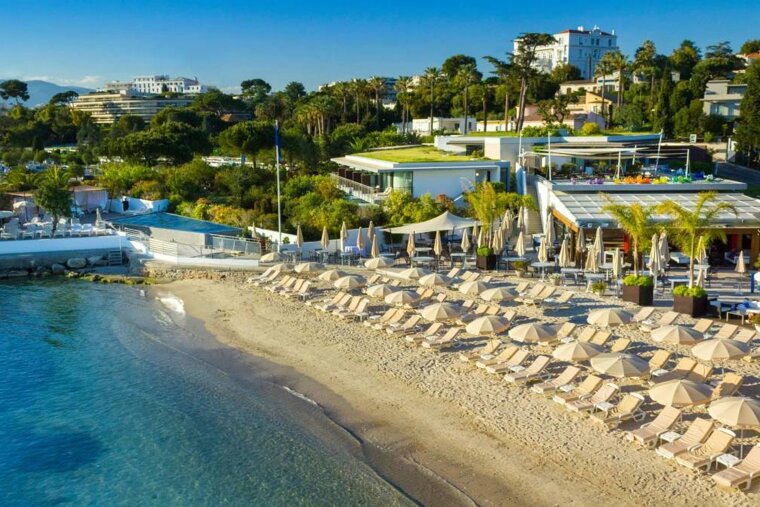 Les Pecheurs, based within the five-star Cap d'Antibes Beach Hotel, is located on a private beach with views over the Lerins Islands and the Esterel mountains. A great place to unwind, there is also a restaurant in this beach club serving a selection of light bites, including salads, meat and grilled fish. However, since you're here, you might as well treat yourselves and book a table at their Michelin-starred Les Pecheurs Restaurant.
Plage Keller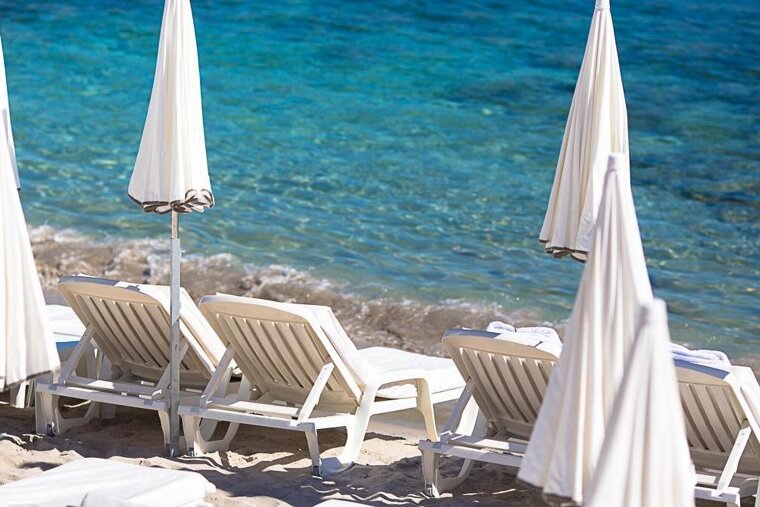 One of the most popular spots on the Cap d'Antibes peninsula, Plage Keller offers panoramic views of the Mediterranean sea and the snow-capped Alps from its fine sandy beach. Here you can enjoy lunch with your toes on the sand or sip on a cocktail on one of their sunbeds.
Plage Belles Rives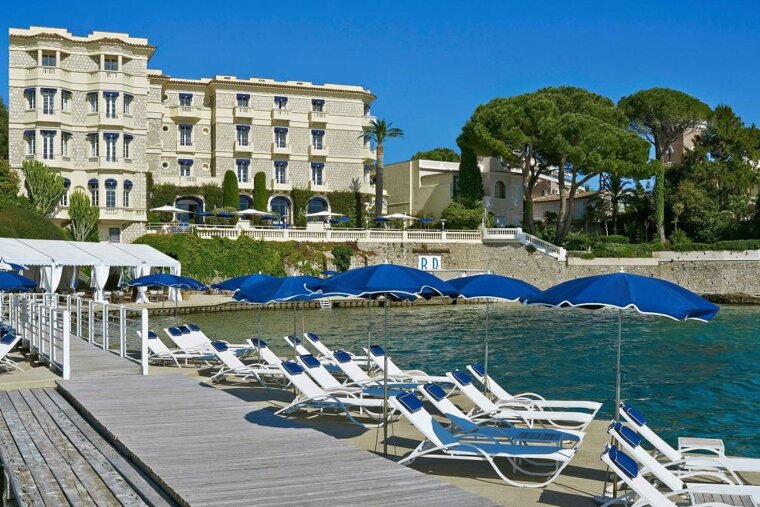 Situated in the Belles Rives Hotel in Juan les Pins, this private beach has been popular with the jet set for decades. Its story is fascinating as the hotel is set in the villa where F. Scott Fitzgerald and his wife Zelda lived in the 1920s, and where he wrote 'Tender Is The Night'. The beach club has a sun deck, a sandy beach and a private jetty as well as cabanas and changing rooms. Water skiing, which was born in this same bay, is also available as well as pedalos, swimming lessons and other watersports.
More inspiration...
This is only a small selection of all the beach clubs on offer in Antibes. Check out our hotel listings to book accommodation and start planning your relaxing Mediterranean trip.