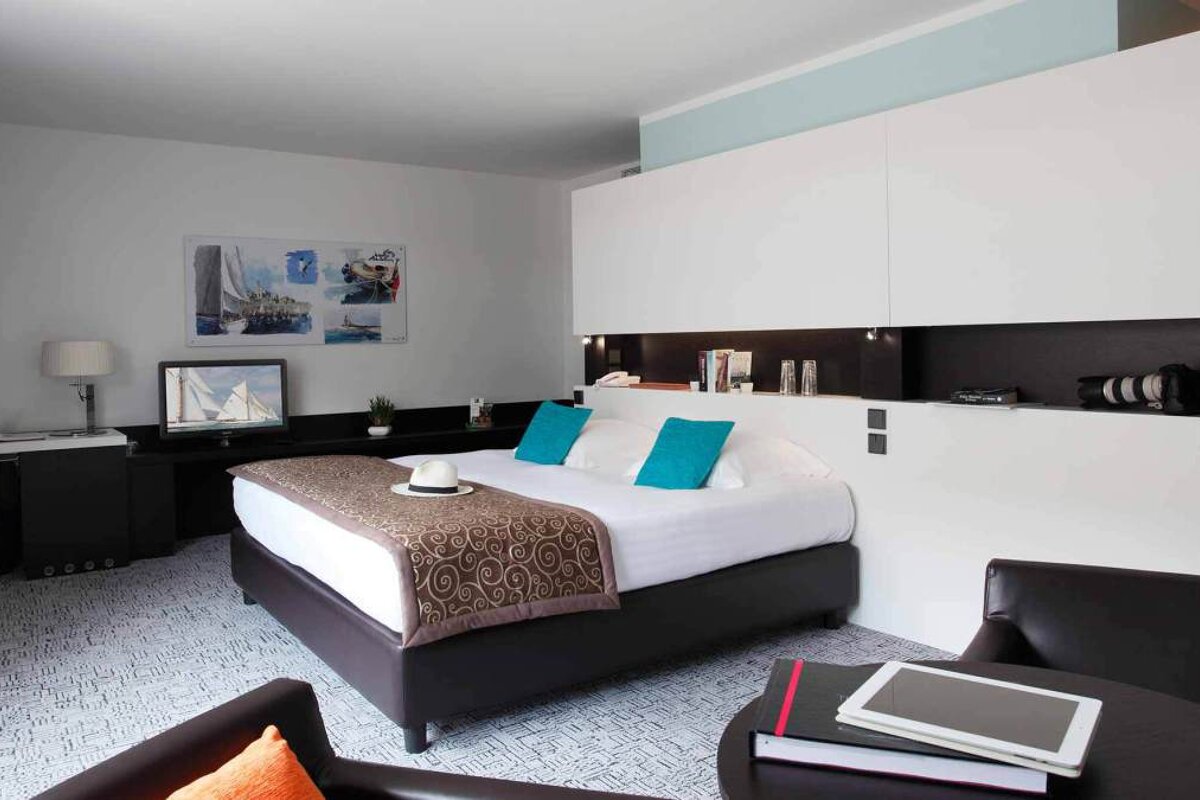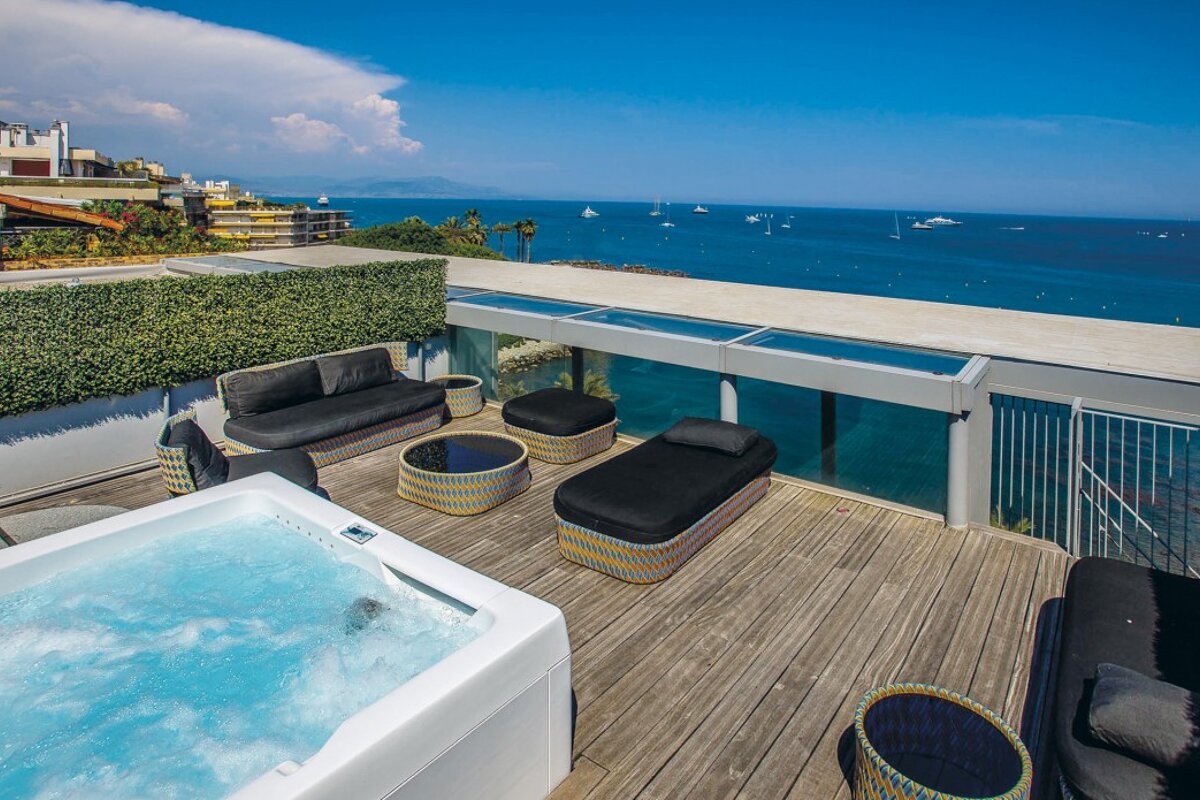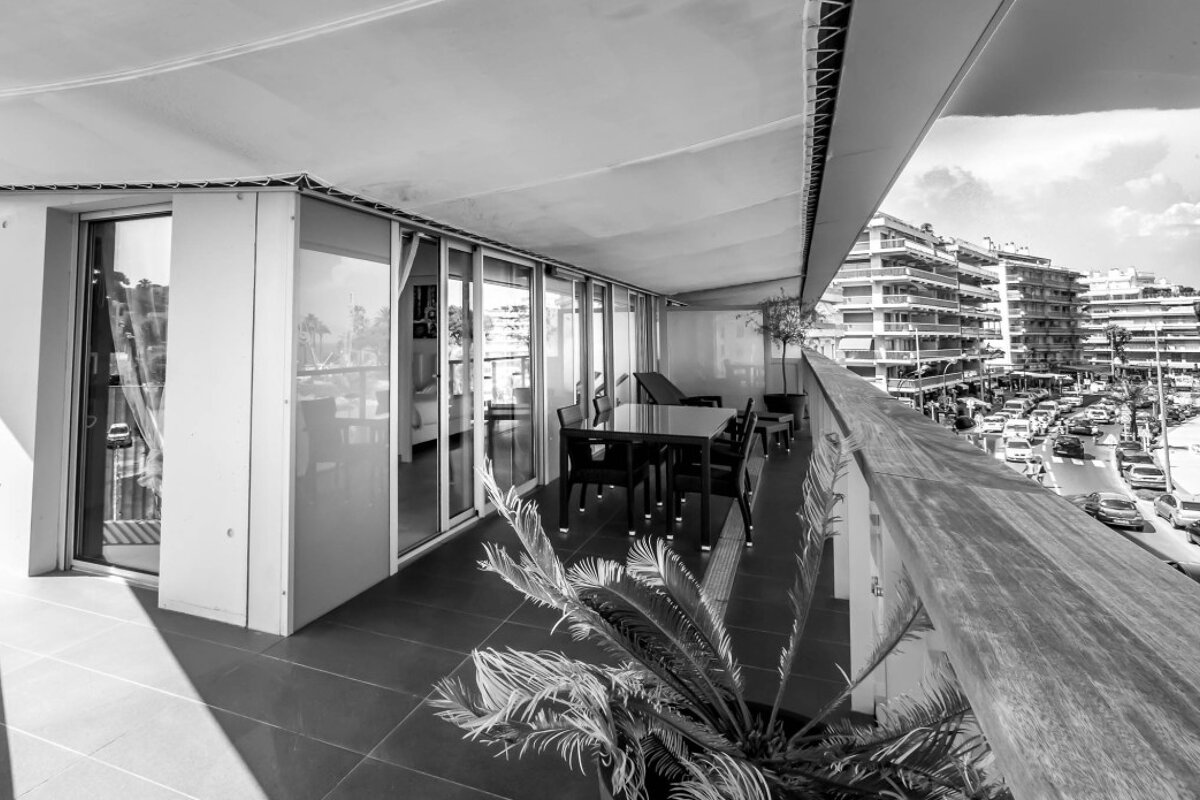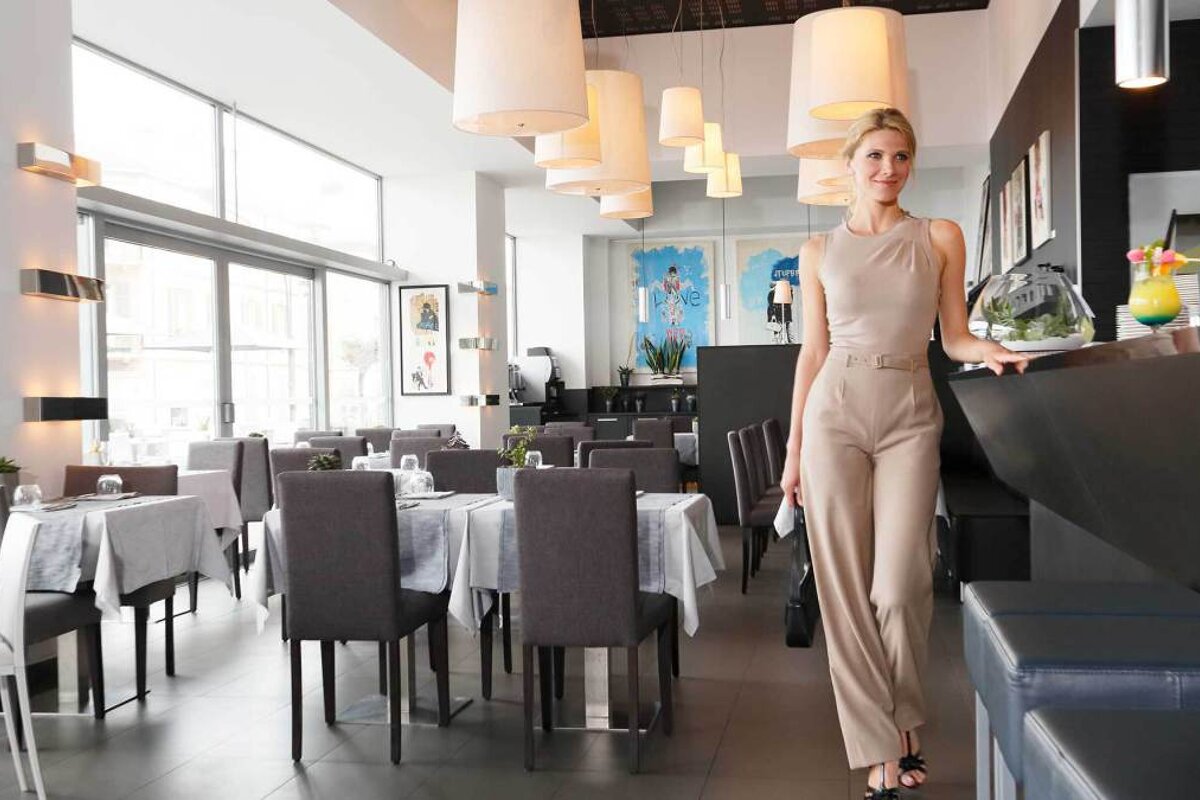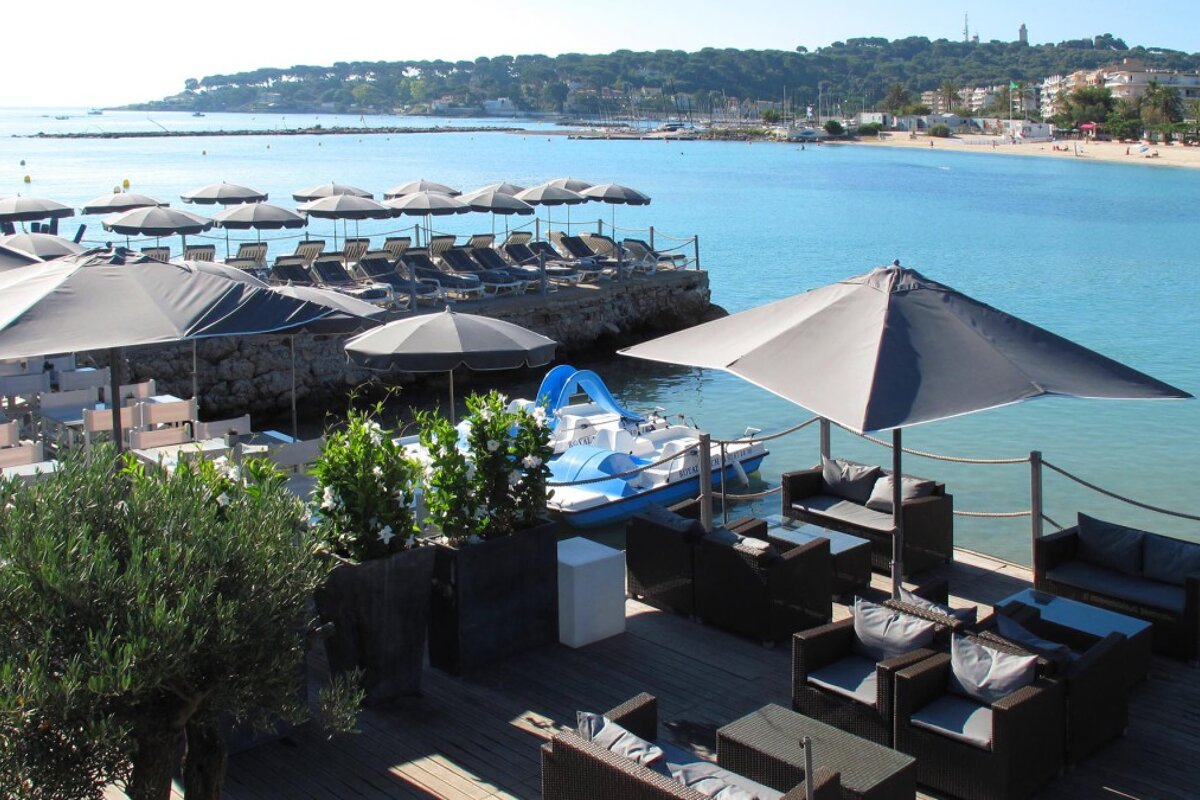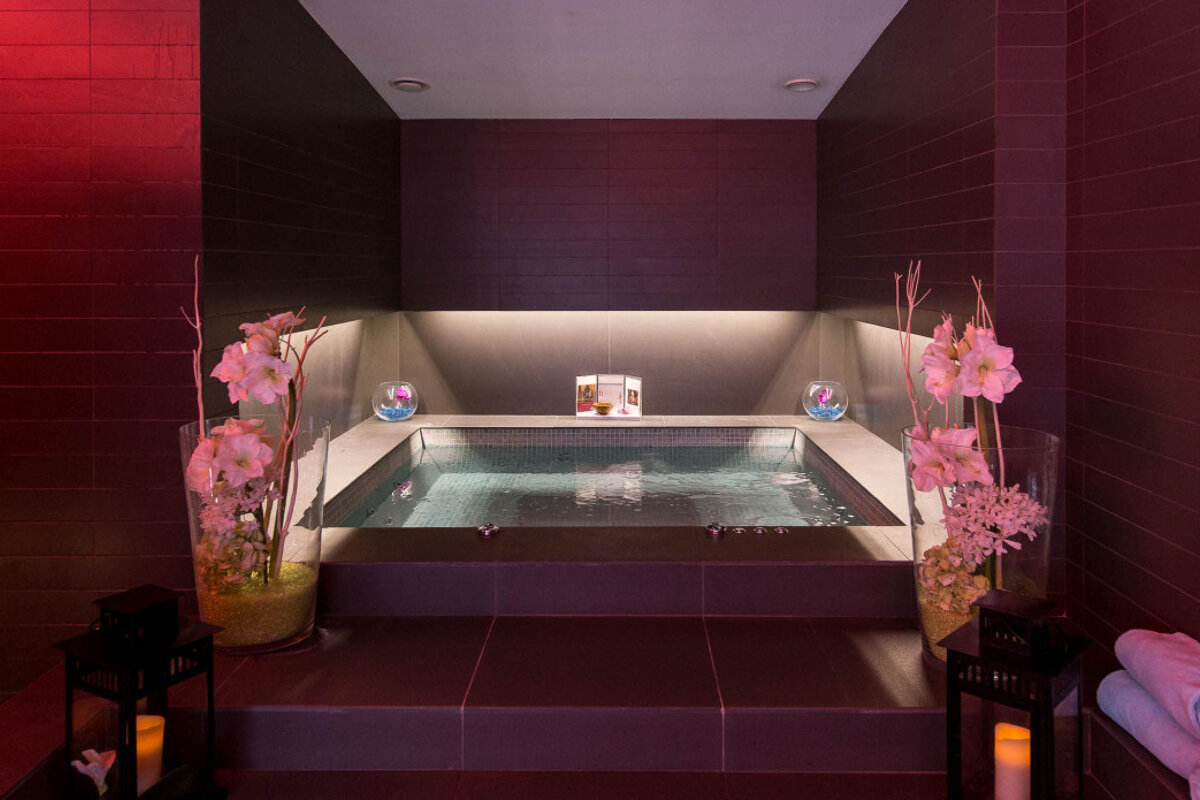 Royal Antibes Hotel, Antibes
Luxury hotel, residence, beach and spa
This modern beach-side hotel was opened in 2011 and is situated close to the old town, the famous Picasso museum and the harbour. It offers contemporary comfort with spectacular views on the Mediterranean Sea and the Cap d'Antibes.
The Royal Antibes Hotel has 64 rooms, suites and apartments themed around sailing and yachting. The stylish décor and new furniture made of teak highlights the luxury and elegance this hotel provides.
All rooms within the hotel feature free WiFi access, air-conditioning, flat-screen Satellite TV, safety deposit box and mini bar. Rooms either have a courtyard or city view. The sea views are reserved for the suites which also includes spacious living rooms and fully equipped kitchens.
To help you unwind on your holiday in Antibes, the hotel provides a lovely spa run by Cinq Mondes which is renowned for its use of natural products. Entirely devoted to your well-being, the 150 m² spa is equipped with three treatment rooms (double cabin), a relaxation area with sauna, hammam, jacuzzi and a fitness studio featuring state-of-the-art weighing and cardio training equipment.
Enjoy the sun from dawn to sunset on the hotel's private beach! Take a nap in sun on the comfortable sun loungers on the sandy beach or on the pontoon overlooking the calm waters of the harbour.
Reviews
1138 verified reviews by
"Good"
Good to know
"Shower can be a problem"
"Dining experience could be nicer"
"Good"
Good to know
"Amenities are not the best"
"Bathroom could be optimized"
"Very Good"
Good to know
"Could use a good cleaning"
The Restaurant
Open daily from 7:30 - 22:00 all year round, the Café Royal serves breakfast, lunch and dinner.
Featuring relaxed and stylish atmosphere and a black-and-white décor, the restaurant reminds us of typical New-York cafés. Perfect for breakfast in the sun or a casual get-together with friends, the 150 m² seafront terrace offers an amazing view on the Cap d'Antibes.
You will taste a modern and creative Mediterranean cuisine that honours the product along with an extensive list of French and Italian wines.
Visitor comments
"We had a fantastic time at this unassuming but very stylish hotel. We stayed for 7 nights, in mid July with a 4 month old baby and the staff and service could not have been better, in fact we felt thoroughly spoilt. The room was very nice, spotlessly clean and the room service was excellent, we enjoyed the breakfast on the terrace overlooking the med and spent most days on the Royal Beach just across from the hotel. The restaurant at the Royal Beach was really good. The hotel is only a short walk from the old town of Antibes and the Marina, perfect for relaxing break, will definitely go back, really enjoyed it." - Trip Advisor
"We came here for a pre-Christmas break and had two suites - my partner and I had the Royal one on the top floor with its own hot tub, and his nephew and nephew's wife had the 3rd floor suite. Both suites were big, well equipped and had amazing sea views and a balcony - true luxury at a sensible price. The staff were friendly and attentive and helpful, and the location is right on the sea front and just a few minutes walk from the old medieval town, market and port." - Trip Advisor
"Right next to the sea front. Staff were very attentive and helpful. Breakfast was fresh continental - very nice bread and croissants! Attached restaurant is also very good and the food and wine we had was excellent. The room was immaculate with very comfortable bed and lots of floorspace. Wi-fi also very good." - Trip Advisor
"Another wonderful stay at the Royal Antibes. This time we received a room upgrade to one of the suites and it is simply fabulous. We came back here because of the lovely welcome we received last year and this time it's even better than ever. Worth every penny. Can't wait to come back again!" - Trip Advisor
Location