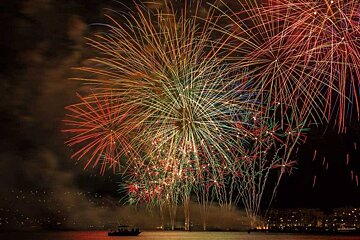 © Mairie d'Antibes Juan les Pins
August in Antibes: What's On & Weather
Markets, music and much merriment
We're halfway through the summer and the holiday season is fully underway.
Here's our comprehensive insider's guide to some of the best events in Antibes throughout August.
What's the weather like in Antibes in August?
August remains extremely hot and busy in Antibes. Average temperatures generally sit between a low of 18ºC in the evenings and a high of 27ºC during the day. There is very little chance of rain and the sun shines for roughly 15 hours a day, with sunrise around 06:30 and sunset after 20:30. Sea temperatures have warmed up to an average of 23ºC. You get the picture: it's hot - day and night!
What's on in Antibes in August?
Fireworks Festival - Juan les Pins
Summer on the French Riviera is not complete without a fireworks and music festival and, in the neighbouring town of Juan les Pins, you will be able to enjoy some amazing pyrotechnical skills. The show starts at around 22:15 and is best seen from Juan-les-Pins Bay or La Brague Beach in Antibes, between Fort Carré and Biot railway station. Why not enjoy the spectacle from the beach at Plage les Pirates, after a delicious dinner?
Saint's Festival
Saint Roch is the patron saint of more than one village in the Cote d'Azur. Traditionally celebrated on the 15th of the month, towns like Cagnes sur Mer and Valbonne organise several days of festivities including traditional parades, solemn masses, folk music and dancing, parties and activities for children. As Saint Roch is the protector of animals, a highlight of this fête is the blessing of the beasts, from cats and dogs to zebras and tigers.
Jazz au Château - Cagnes sur Mer
Imagine enjoying a long summer night listening to the chilled sounds of jazz music in a beautiful chateau setting. If this sounds like your kind of thing then don't miss Jazz au Château in Cagnes sur Mer. Gather at the Place du Château every Friday to enjoy a wonderful evening of live music in an unforgettable venue. Various concerts ranging from jazz trios to vocalists and gypsy swing bands will be lighting up the night.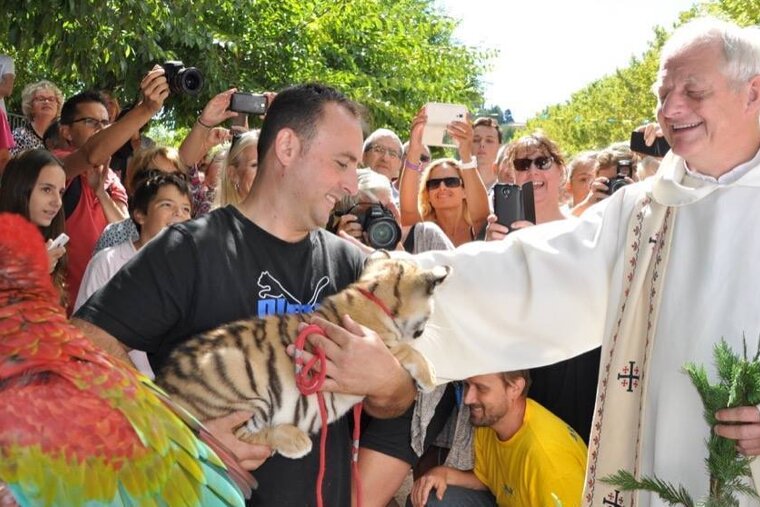 Things to Do
Nocturnes d'Art - Biot
Thursday evenings in Biot will bring you the Nocturnes d'Art, a mix of art, music and dance. With live shows, children's workshops, cultural activities and live music you will be more than entertained in this pretty hilltop village.
Summer Art Fair - Antibes
The month ends with a touch of class and the Antibes Summer Art Fair. This wonderful event, one of the major gatherings of the French Riviera calendar in August, will bring together around 60 exhibitors from the best antiques shops, art galleries, and design boutiques. A must for art lovers, enthusiasts and collectors.
Night markets
The French Riviera's balmy nights are just perfect for some shopping. There are a few arts and crafts markets celebrated around Antibes once the sun has gone down. In the pretty town of La Colle sur Loup, well-known for its art galleries and antiques shops, stalls are set up from 18:00. On the coastline between Antibes and Nice, in Villeneuve Loubet, there is a night market by the sea every Tuesday and Saturday from 19:00 to midnight.
Promenade en Fête
The neighbouring town of Cagnes-sur-Mer hosts a splendid seafront party with live music, DJs and free entertainment and activities for all ages. Running for over two decades, the 'Promenade en Fête' sees the seafront void of cars and free for pedestrians for one night only.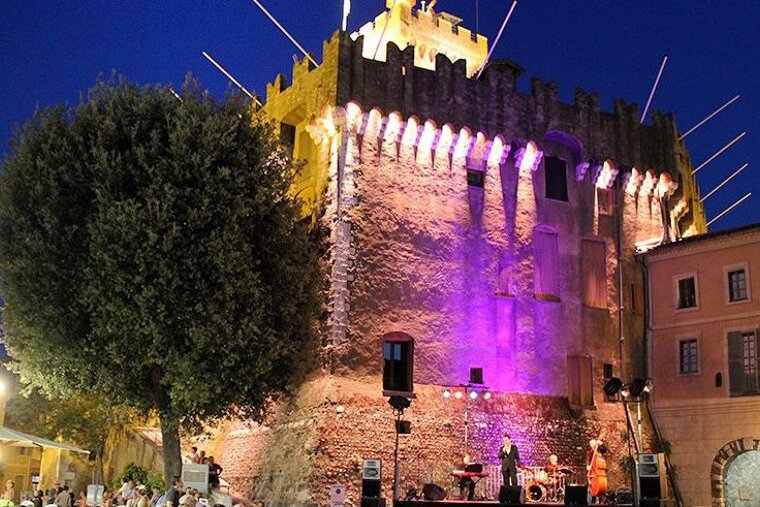 Bars & Clubs
One thing's for sure, you won't have far to go to find a cold glass of rosé to take the heat out of the day, whatever you've been up to. A variety of bars, clubs and port side restaurants will happily welcome you with live music, acoustic sets and much more.
The beach club is a quintessential South of France experience, and you can find them here, from the uber-swanky to the family friendly ones, they range in character and price, so pick one that suits your tastes and budgets.
More inspiration...
Antibes is the perfect choice for a holiday in August, not only because there's plenty going on but also because the warm weather makes it the ideal time to enjoy all the outdoor activities on offer.