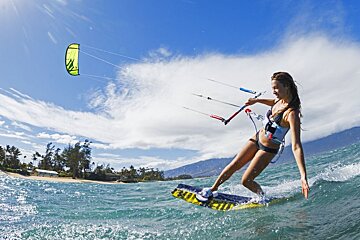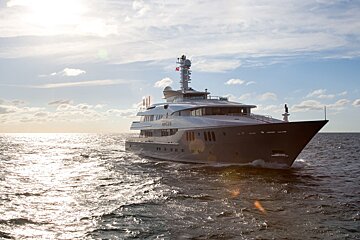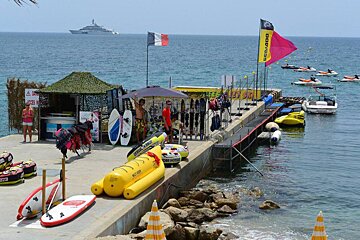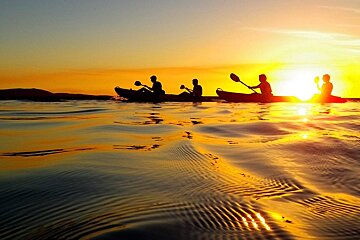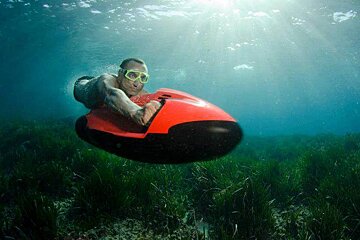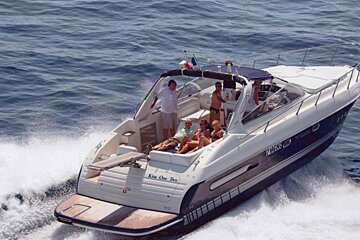 Watersports to do in Antibes
Discover the top Antibes watersports
There is something you need to know about Antibes when planning your watersports activities. When companies are listed as being in Antibes, the area generally includes the beaches of Antibes, Cap d'Antibes, and neighbouring Juan-les-Pins.
This is actually good news, because that is one huge, gorgeous stretch of coastline to explore with rocky headlands, long sandy beaches and quiet, pine-edged coves. There are plenty of watersports operators around Antibes, particularly along the beachfront in Juan-les-Pins.
Canoeing / Kayaking
This is one of the most wonderful stretches of coastline to take a leisurely paddle. The Cap d'Antibes offers a myriad of little coves and bays to explore, with the huge villas of oligarchs and celebrities looking over the coast.
You can rent canoes, kayaks and paddleboards from any of the watersport operators in Antibes or Juan les Pins, although those looking for a shorter paddle should probably head to Plage de la Garoupe which is on the Cap itself. You can also take kayak or paddleboard tours or even a paddleboard yoga class with SUP yoga.
Diving & Snorkelling
The rocky coastline around the Cap d'Antibes provides some wonderful snorkelling, although the waters here aren't tropical so don't expect colourful fish. There are some lovely coral formations and the odd creature hidden in the rocks, but I'd argue that the real pleasure is the stunning setting, the crystal clear waters, and the hidden coves and nooks and crannies of the rock, creating perfect rockpools and warm sunny rocks to sprawl out in the Mediterranean sunshine. If you're really clever you'll convince one of your friends to meet you there afterwards with a picnic and enjoy one of the best days possible on the Riviera.
The diving operators run out of Juan les Pins and Golfe Juan slightly further down the coast, and visit dive sites off the Cap d'Antibes, Golfe Juan and Les Isles de Lerin (Cannes Islands). There are some really good dive sites around this area, including half a dozen off Cap d'Antibes, and the fascinating underwater village 15m below the surface at La Formigue near Golfe Juan. There's also a fantastic dive site here called 'L'Enfer de Dante, with pinnacles and drop offs to 55m you'll find schooling fish, gorgonian fans and soft coral here. There's also a wonderful cave nearby called Grotte de Miro with a statue inside- it has colourful sponges, soft coral, nudibranch and scorpionfish. There is some good wall diving at Sainte Margherite Island off Cannes, as well as a wreck dive in the Baie des Anges.
Flyboarding
The new craze in motorised watersports is the flyboard, or jetpack, where you strap on a jetpack connected to a jetski, which provides propulsion for you to fly 15m up in the air or 2.5m below the water's surface. This new sport is hugely popular with the superyacht set, expect to see footballers and celebrities shooting up out of the water everywhere.
Jet-skiing
The closest operator for jetski rental is Antibes Jet Passion, which is actually in Golfe Juan (just past Juan-les-Pins.) By no stretch of the imagination is this in Antibes, but it's not that far away either.
Be aware that you need a license to ride a jetski in French waters, or you can ride with someone already qualified. You can gain your jetski license in Antibes, but it takes a day. If you have your license, you will need to wear a life-jacket and follow all local speed limits and regulations, the water police really are cracking down after some accidents so be aware.
Other surface watersports
Donuts, flying carpet, sonar, torpedo, flying fish, no matter how you like being pulled behind a speedboat, Juan les Pins has all the latest in inflatable fun.
Parasailing
You can parasail in Juan-les-Pins, enjoying the view of the yachts and the sparkling sea below.
Sailing & yachting in Antibes
Sailing
Look out to sea in Antibes on any warm day (even in winter) and you'll see a swarm of Optimist dinghies strung across the bay as people learn to sail. You'll find the very popular sailing club of Antibes on a small rocky spit of land at the end of Salis Beach, where you can sign up for sailing and windsurfing lessons, rent catamarans and dinghies, or paddleboards and kayaks.
Yacht charter
Antibes is one of the biggest global centres for yachting, so you have plenty to choose from if you're looking to charter a yacht for a week (or longer.) See our Antibes yachts for charter or Antibes yacht brokers for details. Look at our boat trips and for boat charter guides further information on planning and booking a yacht charter on the Riviera.
Day Boat Rental
Antibes has plenty of small boats to hire for the day, whether you're looking to hire through a dedicated company with crew, or just want to rent a little dinghy from one of the small local boat owners in the port (you'll see signs up.) For more information on renting a day boat on the Riviera, read our boat charter guides.
Boat Excursions
There are organised boat trips you can take, whether it's to swim with dolphins, go deep sea fishing or just gawking at the villas perched on the rock in 'Millionaire's Bay.' From Juan les Pins you can take glass bottomed boats and small ferry rides.
Waterparks
Antibes (ok, well technically Biot) is home to an Aquasplash waterpark, which is part of the larger Marineland Complex. The Aquasplash centre has waterslides, kids pools, obstacle courses, Magic Rivers and Pirate's Island, while the Marineland Park has live animal shows to keep the kids entertained.
There's also an Adventure Golf park and a Kid's Island, but be aware that all of these parks are separate entry (although special deals apply).
Waterskiing & Wakeboarding
It's said that waterskiing was invented on this stretch of coast, so where better to try it? There is one watersports centre at Salis Beach in Antibes, and one at Garoupe Beach on the Cap, but you'll find more operators over at Juan-les-Pins.
Watersports Safety Advice
The waters around Antibes get very busy, so whatever watersport you're doing, keep an eye out for others in the water, as well as yacht tenders which are zipping around like crazy between the yachts and shore in the high summer.
Windsurfing & Kiteboarding
Like almost all Riviera beaches, kiteboarding is prohibited on the beaches of Antibes in the summer months due to crowding, but that doesn't have to stop you from kiteboarding.
The local Antibes kiteboarding school takes you offshore in a boat to the Cannes Islands where you can learn to kiteboard with lessons or improve your skill. For more experienced kiteboarders wanting to skim the waves in summer, head down to the Var beaches of L'Almanarre and Saint Aygulf, where kiteboarding is allowed in special reserves. As of October, the beaches open up and the Mistral wind screams through- meaning the fun definitely picks up and the sails streak across the bay at Antibes.
You can rent windsurfers at the Antibes Juan les Pins sailing club, which also offers courses. Again, this sport really ramps up a notch in the Autumn when the winds pick up.