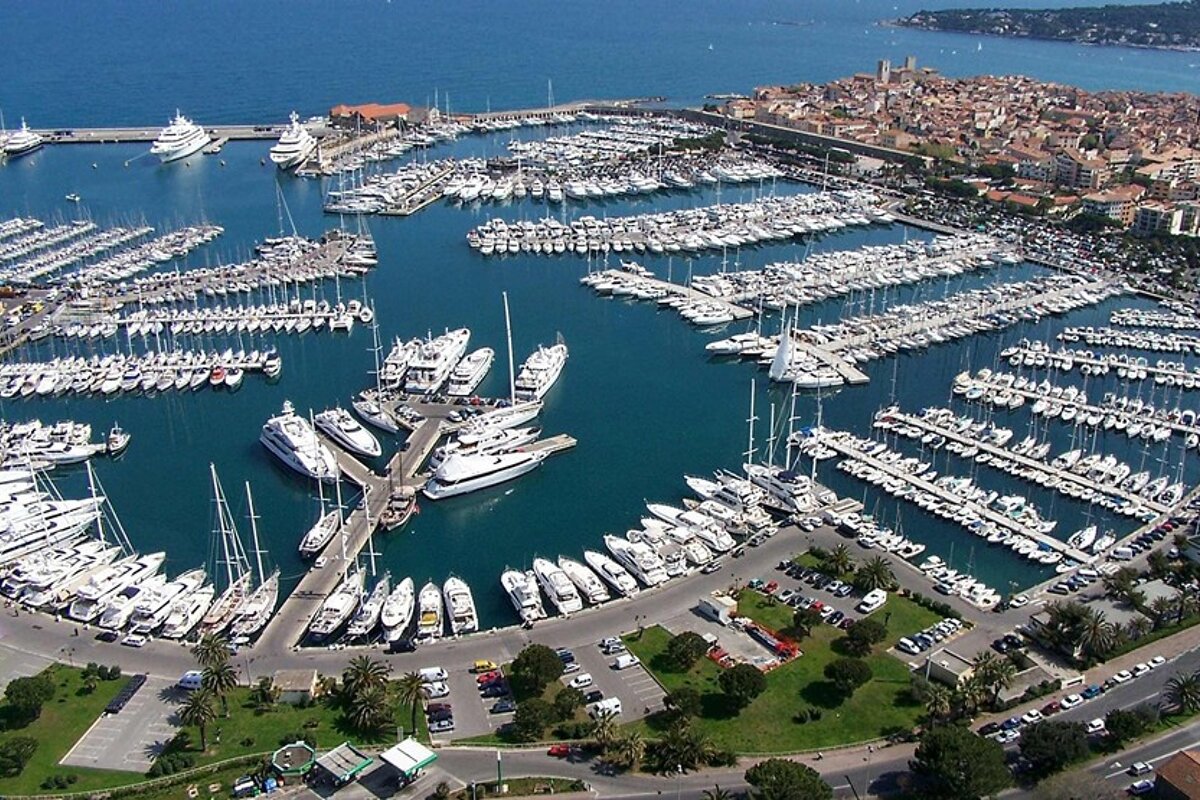 Marinas & Moorings in Antibes
Discover the top Antibes moorings
Antibes is one of the biggest luxury yachting centres on earth, with a huge port that curves around the horseshoe-shaped bay between the medieval ramparts on one side and Fort Carre on the other.
Popular Marinas Near Antibes

Ports in Antibes
Quai Camille Rayon, Port Vauban, Port de la Salis, Port Gallice, Port du Crouton
West to Cannes
Port Camille Rayon,​ ​Port Moure Rouge, ​Port de la Pointe Croisette, ​Port Pierre Canto, ​Port of Cannes/Vieux Port
East to Nice
Marina Baie des Anges, Port Saint Laurent du Var, Port de Nice
Moorings & marinas
Antibes has been an important port since before the Middle Ages, when the Crusader ships stopped here on their way to the Holy Land, and, in the modern era, was the base of Louis XIV's navy and was later bombed by the Germans due to its strategic importance during World War II.
Passing most of its life as a fishing port, Port Vauban of Antibes is today the largest yachting marina in Europe with 1700 berths ranging from 4.5m to 165m, and is logistically made up of two separate marinas, a professional fishing port and a shipyard.
There is also a small port at the base of the Cap d'Antibes called Port Salis, suited to small vessels, and the nearby ports of Juan les Pins, Port Crouton and Port Gallice, taking the total of Antibes-JLP berths to an enormous 2,800.
The IYCA (International Yacht Club of Antibes) Quay
The privately-owned IYCA on Quai Camille Rayon, or 'Millionaire's Quay', is probably the most famous of them all- for this is where the huge superyachts gather. On the IYCA, a 60-metre yacht s a minnow, dwarfed beside the palatial megayachts of Roman Abramovich, Paul Allen and the Saudi princes.
While there is a security guard posted at a boom gate on the IYCA to stop unauthorised vehicles, both tourists and visitors are welcome to walk along the IYCA, gawping at the huge shining yachts with their helicopters and swimming pools. And no, you can't board 'just for a look.'
If you do happen to have a spare €20 million+ to buy a berth lease, or fancy paying thousands a night to dock your 50metre+ superyacht, then you'll be interested to know that the IYCA has plenty of room for the fuel trucks to dock, as well as waste services, electricity and water services and all the other things you'd expect from a luxury yacht marina. It also has a helicopter landing pad, that's in case your yacht isn't big enough for the helicopter to land straight onto its deck.
Port Vauban
On the other hand, if you don't happen to have that kind of money to hand and just want to dock a smaller boat in Antibes, then the rest of Port Vauban is a much more reasonable prospect. It runs from the 'Old Port' edging the wall of the IYCA quay, right around the bay to the shipyard beneath Fort Carre. This huge port has over 1600 berths-although these berths are still quite expensive and fiercely contested year-round. Many yachts will 'winter' in Antibes, making the most of the yachting infrastructure, suppliers and English speaking 'yachtie bars' that make this town a favourite for yacht crews. A lot of the berths are owned in an 'amodie' structure of share ownership, and many of the yachts have been berthed there for decades and barely seem to move.
However, with so many berths and a brilliant location, Port Vauban is indisputably a great place to berth your yacht, so book as early as possible. If you're looking for a berth to buy or rent long-term, you can contact specialist berth companies such as Mooring Spot, while major yacht brokerages also list berths for sale.
If you're just coming into Antibes on your yacht and are looking for somewhere to tie up for a night or two, contact the capitanerie (port headquarters) on VHF 09 to find out availability. The larger yachts will be based on either the Capitanerie Quay, the 'Old Port', or the Y Quay; the smaller vessels are mostly down towards the shipyard at the Fort Carre end of the port.
The professional fishing port is just near the archway leading towards the old port and IYCA and you'll find a couple of small fishing charters and dive operators leaving from this area.
Port de la Salis
The small fishing and leisure port of Port de la Salis is found at the end of the beaches at the base of the Cap d'Antibes. It has 220 berths for vessels up to 6m, as well as a little lift for haul outs.
Port Gallice
Port Gallice is a modern marina and shipyard at Juan-les-Pins in the Antibes commune, accommodating yachts up to 45m in 525 berths. Well protected from winds, this marina has a travelift, a restaurant, shower and toilet facilities as well as waste, water and electricity services.
Port du Crouton
Very close to Port Gallice, the small Port du Crouton caters to small vessels and local fishermen. There are moorings for 390 boats with a maximum length of 10 metres.
---
Marinas close to Antibes-Juan les Pins
For those wanting something slightly cheaper or if you can't find a spot in Antibes or Juan les Pins, the nearby towns of Golfe Juan and Villeneuve Loubet also have popular marinas.
Villeneuve-Loubet
Marina Baie des Anges is located below the immense curved buildings that dominate the coastline at Villeneuve Loubet on the way to Nice. This resort-style marina offers 574 berths up to 28m in length, as well as restaurants, boutiques, 8 hectares of gardens and a man-made white sand beach in the complex.
Golfe Juan
Nearby Golfe Juan in the direction of Cannes has two popular marinas: Port du Golfe Juan and Port Camille Rayon, which lie side by side. Port Camille Rayon has 833 berths for boats from 6 m to 75 m. Restaurants, bars and yachting suppliers line the docks of these busy ports.
More inspiration...
All in all, it's safe to say that there are a lot of boat berths in Antibes and the surrounding towns, making it an ideal place to stop and explore this gorgeous part of the French Riviera. With a huge yachting infrastructure and a long maritime history, Antibes is a fantastic stop on your boating holiday. Just remember to book early!
See all our Antibes marinas, or for marinas further along the coast visit our port listings on other Riviera sites: SeeMonaco.com, SeeNice.com, SeeCannes.com and SeeStTropez.com.