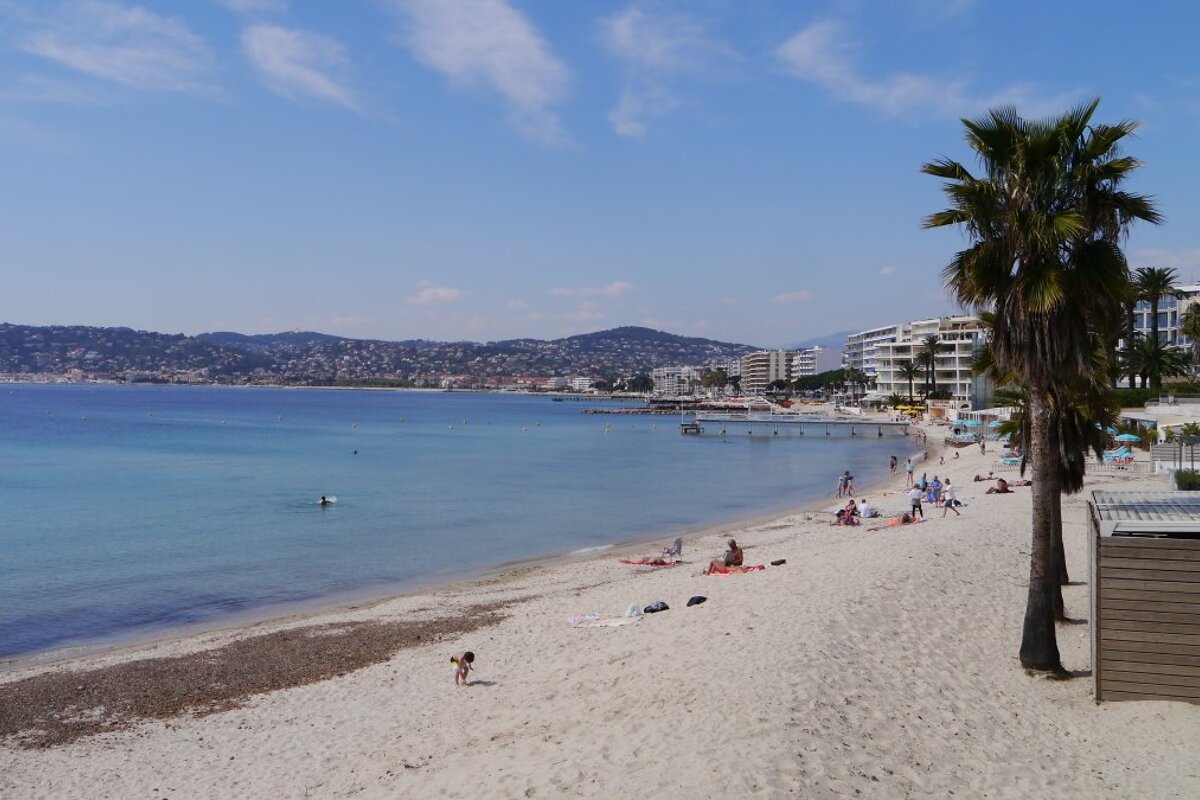 Grande Plage Beach, Juan les Pins
Large public beach located in the west of Juan les Pins
This is the main beach of Juan-les-Pins, and it's also one of the widest. This is a great public beach with lots of sand, a great view and a buzzing energy in the summer months.
Grande plage beach is a lovely beach with a gorgeous view and is entirely public. With good facilities and a short walk to town, it's no surprise that this beach is absolutely heaving in high summer. If you don't like crowds, try your luck at Plage de la Gallice or Plage du Crouton instead, or head to one of the hidden beaches of Cap d'Antibes.
Dogs: Dogs are forbidden on this Riviera beach between mid-April and 1 October, although you might get away with it on a slightly cooler or rainy day. Because this beach is so open and there are many overlooking buildings, this might not be your best bet for a sneaky dog walk in summer- keep your eye out for the locals and see what they do.
Beach Bars & Beachclubs in Antibes
Because this beach is so central to town, you can easily visit a local supermarket to pick up some supplies for a picnic. Although there aren't any restaurants on the beach the one thing Juan les Pins isn't short of is cafes and restaurants. Walk along the boulevard behind the beach and you'll have plenty to choose from.
Setting & Location
With the palm-lined boulevard behind and the gorgeous view over to the Cannes Islands and Esterel mountains, Grande Plage beach has a lovely setting. It is very convenient to town, but it is very close to the road.
Water Safety & Clarity
Juan les Pins, in my experience, tends to have clearer waters than Antibes beaches in mid-summer. However, if you're looking for crystal clear waters and a tranquil day out under the pines, why not jump on the short ferry trip across to the Cannes Islands.
This beach has lifeguards posted in the summer months, and the beach slopes away quite gently into the water, making it a good place for kids to paddle.
Jellyfish: Stingers do sometimes plague Riviera beaches, but luckily some lovely soul maintains a jellyfish alert website, updating recent sightings of jellyfish along the Cote d'Azur. Check it out here- it's in French, but it's pretty easy to understand: it has big red jellyfish marked on the map, or green flags where it's good to swim.
Beach Quality
This lovely sandy beach is purely public. Lovely soft sand, and quite wide (well, wide by Riviera standards anyway.)
Watersports Nearby
There's a sailing club at the far end of this beach, and watersports rentals at nearby Plage du Pont Dulys. If you head towards Ponton Courbet you will also find numerous companies that run boat trips out into the bay and to the Lerins Islands.
Directions
Grande plage beach runs along Boulevard Guillaumont, and is extremely easy to find. However, parking spots are not so easy to find: the parking fairies will have to be smiling on you in order to nab one of the few spots along the road. Park in one of the back-streets (if you can find a free spot there either.)
Location
Juan les Pins, Antibes